---
TNR Classes
SAFCC offers free TNR classes. These classes are open to the public and are available both on-line and in-person. Learn how you can help outdoor community cats using the ONLY method that works! By attending one class, you will learn the basics about the TNR process; how to safely and humanely manage and reduce the outdoor cat population numbers; low-cost spay/neuter options; free trap loan resources; after-surgery recovery protocols; and how to help solve cat nuisance problems.
To learn more about our TNR classes please click this link.
---
Trap loan volunteer needed for north-east, I-35 corridor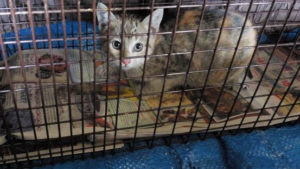 We are in need of a trap loan volunteer on the north-east side of San Antonio.
If you have attended our TNR class and can meet the below requirements, please email us at info@sanantonioferalcats.org.
The minimal requirements are:
Vehicle large enough to hold several traps.
Storage for 10-15 traps, out of the elements.
Be able to meet people to loan traps 7 days a week.
Be able to keep track of trap loans and provide a monthly report to Trap Loan Lead.
---
Our CCAP adoption event on Saturday, January 23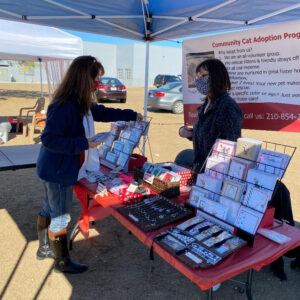 Stop by our CCAP adoption event
On Saturday, January 23, stop by Westover Square Market (8739 TX 151, SA TX 78245) and visit SAFCC's table. We'll be selling merchandise and will have adoptable cats and kittens. Westover Square Market will be accepting donations of blankets, food, toys, etc., for SAFCC. Shop with local small vendors and support SAFCC!
Date: Saturday, January 23, 2021
Time: 10AM-5PM
Location: Westover Square Market,8379 TX 151, SA TX 78245
View photos from this month's past event.
---
Cat of the month: Donner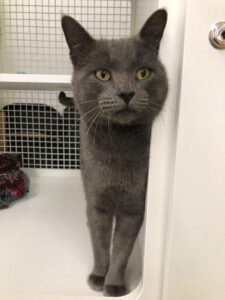 This sweet two-year old Russian Blue mix is Donner. He was found roaming the neighborhood with his female cat partner and her babies. Unfortunately, while Donner's female friend was killed by dogs, a SAFCC foster decided to take in Donner and his kittens so they could avoid the same fate. Donner's foster mom helped him be a single dad and helped raise his three babies. While Donner has been a loving and caring dad, he is done with daddy duties and is ready for his forever home.
Donner is neutered and has tested positive for FIV. Despite his rough beginnings on the street, Donner is very sweet, gentle and loving. He is an active but also a calm and very handsome fellow. If you are interested in Donner, please contact his foster mom Lorraine Cantu (210) 471-8462 or crazykattlady67@gmail.com.
The adoption fee of $85.00 includes spay, rabies & FVRCP shots, feline leukemia and FIV tests and a microchip. For all of our adoptable cats, please visit our PetFinder page HERE.
---
Understanding the new feeding laws effective January 1, 2021 – we have listed the new feeding laws below & some helpful suggestions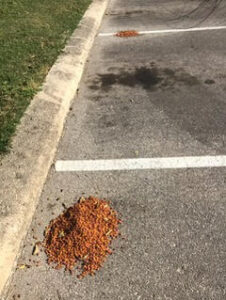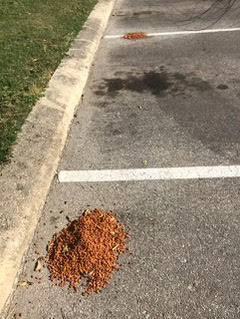 Updated City Code Chapter 5, Article VII, Section 5-150: Animal Nuisances:
(7) The owner or keeper of an outdoor cat or keeper of a cat colony shall take all steps necessary to prevent a wildlife or pest feeding nuisance.
The owner or keeper of an outdoor cat or caretaker of a cat colony shall be responsible for having the outdoor cat(s) under his or her care, possession, control or custody:
a. Fed species-specific food in a feeding dish that is non-disposable and facilitates the removal of uneaten food;
b. Not provided food that is left outside in a "free feed" environment;
c. Not fed in excess.
a. The requirement to feed species-specific food is intended for anyone feeding cats to feed cat food, as opposed to dog food which is sometimes cheaper but lacks sufficient vitamin A, taurine (an essential amino acid for their eyesight), arachidonic acid and meat-protein levels that cats need to be healthy. Non-disposable dishes are intended to replace the paper plates and Styrofoam containers that blow away becoming trash, making the area look littered. Feeding locations, when feasible, should not be out in the open and container/dish colors that blend with the environment may be helpful. Clear plastic can be hard to detect from a distance. Stones or rocks can keep containers from blowing away. Feeders should always be as discreet as possible when feeding in public areas.
b. A "free-feed" environment is when food is left for cats to eat all through the day. This is what attracts other wildlife, ants, etc., and attracts unwanted attention to the cat food and the cats who may be trying to keep a low profile.
c. Cats can be fed one cup of dry food a day with a water source. If water is not available, canned food mixed with dry food and a little water is beneficial. Large amounts of food dumped and left on the ground is one of the biggest complaints received about outdoor cats which results in feeding bans in apartment complexes and neighborhoods. Please measure food for the numbers of cats you feed and please do not get wildlife used to eating cat food. It's not good for them and not good for the cats.
Violations for the new cat feeding ordinance will be filed as administrative cases carrying fines of up to $300. Continued violations will be filed as Class C Misdemeanors that carry criminal fines of up to $500 and the issuance of a warrant if someone fails to show up to court.
Sec 5 – 151 also stipulates that all outdoor cats must be spayed or neutered.
If you are feeding cats, please get them fixed. We are here to help.
---
Free spay/neuter surgery for 333 community cats in 78212 and 78209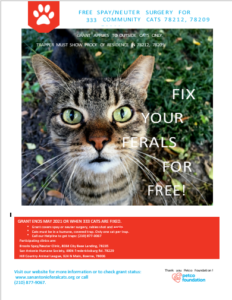 We are grateful to the Petco Foundation for awarding us this grant to fix 333 outside cats in the 78209 and 78212 zip codes for free. The rabies vaccination is included, however any other vaccinations are at the trapper's expense. Trapper must show proof of residence in 78212 and 78209.
Start Date: August 1, 2020
Participating Clinics: San Antonio Humane Society, Brooks Spay/Neuter Clinic and Hill Country Animal League in Boerne.
Click HERE to view the grant flyer for details. Grant ends May 2021 or until 333 cats are fixed. If you do not reside in these zip codes, please visit our website HERE to see what surgery specials are available.
---
Help us continue to do this important work for our city, please DONATE!