---
April TNR Classes Cancelled
Due to the COVID-19 pandemic and quarantine measures, all TNR classes in April have been cancelled. We hope to resume these classes in May, but that is subject to change.
---
Clinic Updates
The San Antonio Humane Society and the Animal Defense League are closed for public services until further notice.
Hill Country Animal League in Boerne is doing surgeries again starting Monday, April 13th.
SNAP (6758 Ingram Rd. 78238 210-673-7722) is doing Feral Wednesdays during April. Females are FREE and males are $20. Limit is 50 cats. See our TNR Resources/Grants & Specials page for more details.
PetShotz (Address: 210 Tuleta Dr #3, San Antonio, TX 78212) is doing feral surgeries Tue – Fri and prices are good: $25 with a $14 FVRCP = $39 They prefer you call first.With limited clinics and kitten season ahead, please limit trapping to females and pregnant-looking cats. Recovery MUST be at least 3 days.
---
The Big Give moved to Sep 10
Due to the COVID-19 pandemic, The Big Give SA has been postponed until September 10th. As SAFCC's BIGGEST fundraiser all year, we hope you will save the date and remember SAFCC and our efforts to support community cats.
Currently our page on The Big Give website has been switched to fundraise for emergency relief efforts for our Feral Food Program. As we have received an increase in requests for food help from those who feed community cats, any donations you give now will go toward assisting these individuals.
You can still donate by clicking HERE. Thank you to all our supporters!
---
First bottle babies of kitten season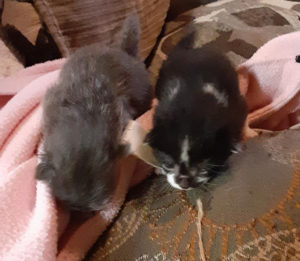 While worries of the recent pandemic are causing many to take shelter indoors, our volunteers are still out and about answering calls to rescue cats and kittens. These bottle babies pictured here are the first kittens accepted by our Community Cat Adoption Program and serve as a reminder that kitten season is here! There will be hundreds of kittens born this spring and our small foster/adoption program will soon be overwhelmed.
If you find a litter, please do not touch them if they are in a safe place. Watch and wait for mom to appear. Please put food and water out for mom. When weaned at 5-6 weeks, let us know if you can bring them inside to foster. Our CCAP team will try to help you get them adopted. If you cannot bring them inside, depending on circumstances, they may need to stay with mom and everyone get TNR'ed at a later date. If you are sure after several hours mom is not around, call our helpline.
SAFCC's Community Cat Adoption Program is a small, all-volunteer organization that saves hundreds of friendly cats and kittens off the street. These efforts are done through donations only. Please consider a donation to support CCAP by clicking HERE.
If you'd like to adopt a cat, please view our adoptable cats online. Adopting one cat opens the space for a foster to take in another, and this is a perfect time to add a new family member to your home. Click our website HERE.
Lastly, consider a donation via our Amazon Wishlist.
---
Cats of the month: Pumpkin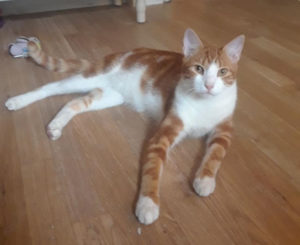 Pumpkin is a 1-year-old orange and white, male tabby. The orange in his coat is a vivid and striking rust color. Pumpkin is friendly, gets along well with other cats and is an affectionate, active, lap boy. He does prefer being an indoor cat with some backyard access. If you're interested in adopting or meeting with Pumpkin, contact his foster mom Susan at (210) 803-9334 or email her. For all of our adoptable cats, please visit our PetFinder page HERE.
---
Our 2020 volunteer needs
Here are our volunteer needs:
Trapper Team – still need trappers! Those cats are not going to trap themselves!
Trap Loan Coordinator & Feral Food Program Coordinator – both positions are still open!
Medical Recovery Team – important job to help our trappers!
TNR Class Helpers – We received several responses, Thank you!
Fundraising / Event Team – we have a good start but need more!
Advocacy Team – the need is still there.
Please email HERE if you want more information or want to volunteer!
---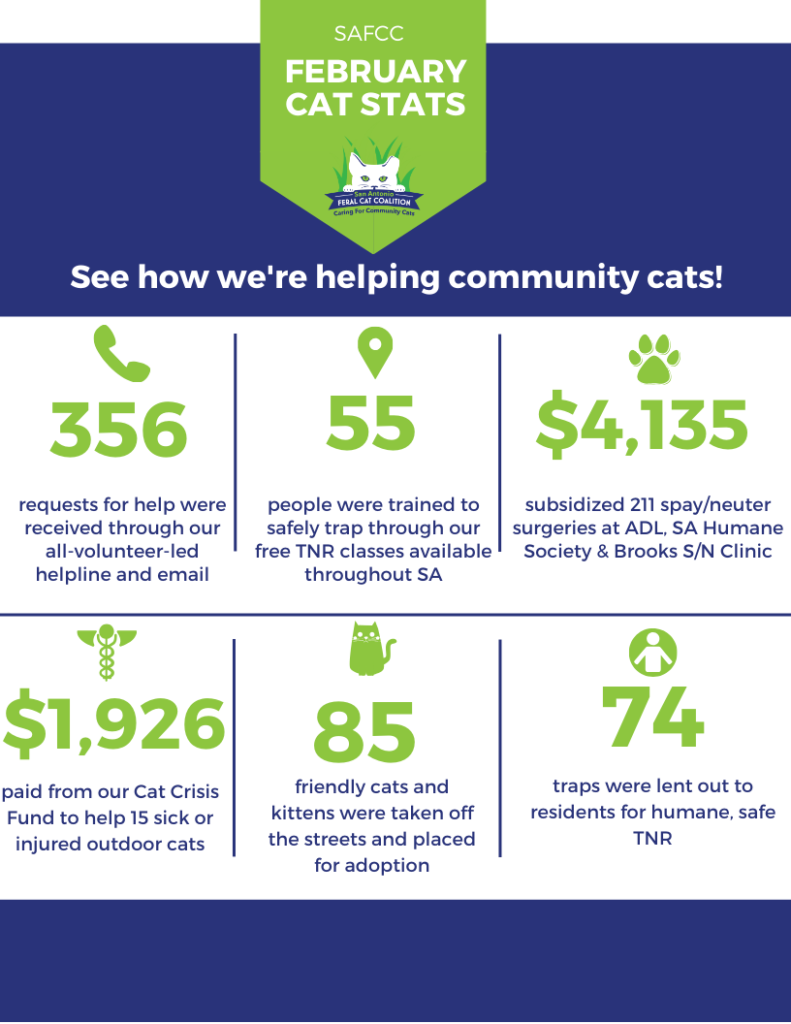 Help us continue to do this important work for our city, please DONATE!