---
TNR Classes
SAFCC offers free TNR classes. These classes are open to the public and are available both on-line and in-person. Learn how you can help outdoor community cats using the ONLY method that works! By attending one class, you will learn the basics about the TNR process; how to safely and humanely manage and reduce the outdoor cat population numbers; low-cost spay/neuter options; free trap loan resources; after-surgery recovery protocols; and how to help solve cat nuisance problems.
To learn more about our TNR classes please click this link.
---
Open your heart – vaccinate a cat!
Celebrate this Valentine's Day by donating $20 to give a cat in our care their vaccine! In 2019 there was an outbreak of feline parvo in south central Texas that became so severe, some shelters and rescues had to close their doors temporarily. SAFCC was not spared as our CCAP team lost many kittens to feline distemper/feline parvo as feline parvo is especially deadly to young babies. For this reason SAFCC now pays to protect feral cats that are TNR'd, as well as foster cats, from this virus. A $20 donation will cover the cost of two vaccine. Reaching our goal of $5,000 will help vaccinate 250 cats. Click the grid below to donate!
---
Reminder: Love is in the air!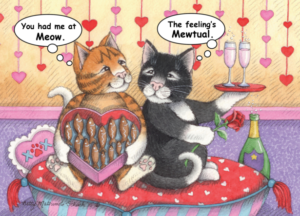 Love is in the air and our community cats are "feline" it! Our warm winter has cats already in heat which can lead to a prolific kitten season! Now is the time to trap and spay so that we can keep those unwanted litters at bay!
Click here for more info on how to attend our TNR class or to see clinic hours/days and grants specials.
---
Trap loan volunteer needed for north-east, I-35 corridor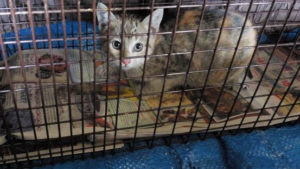 We are in need of a trap loan volunteer on the north-east side of San Antonio.
If you have attended our TNR class and can meet the below requirements, please email us at info@sanantonioferalcats.org.
The minimal requirements are:
Vehicle large enough to hold several traps.
Storage for 10-15 traps, out of the elements.
Be able to meet people to loan traps 7 days a week.
Be able to keep track of trap loans and provide a monthly report to Trap Loan Lead.
---
CCAP adoption event a great success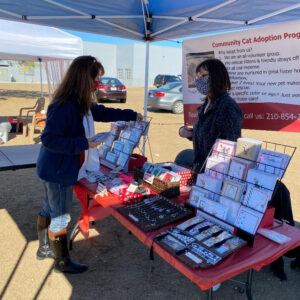 Despite the day being dreary, wet and cold, our adoption event at the Westover Marketplace was a success! Our Community Cat Adoption Program raised almost $200 and received donations of food, blankets, and cat beds. Thanks so much to all that stopped by and to Westover Market for hosting such a great locale. Many thanks also to Nicole from Petli. She was at the event and is donating 10 percent of her sales profits to CCAP vet bills. Monitor our Facebook page to see when the next market event will be.
---
Cat of the month: Purdy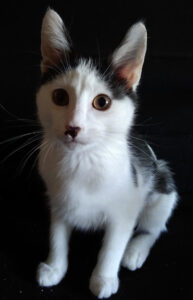 Hello? Is it me you're looking for?
This sweet 6-month old kitten is Purdy (aka "Purdy Pants") He's a loving and spunky boy who loves to play, especially if it involves chasing toys into tissue paper! Purdy also enjoys running amok or rough-housing with other kittens in the house! When that's done though he'll climb into his bed and get in a vigorous kneading session with very loud purrs. Purdy is very talkative, especially around feeding time!
Purdy's life wasn't always so carefree. He
He had a gut protozoan called coccidia that resulted in a rectal prolapse. Purdy underwent three surgeries to save his young and promising life. His last surgery, a colopexy, was performed last month and Purdy has been hailed as a success! Now Purdy will live a normal healthy life and will definitely need a playmate wherever he goes as he can be quite rambunctious. If you would like to adopt Purdy, please email his foster mom Rebecca at becca@redbolt.net
The adoption fee of $85.00 includes spay, rabies & FVRCP shots, feline leukemia and FIV tests and a microchip. For all of our adoptable cats, please visit our PetFinder page HERE.
---
Baby Bam's happy reunion with owner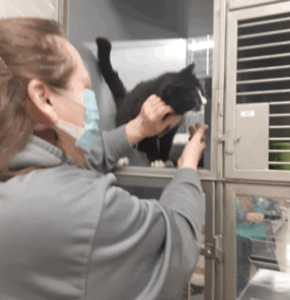 If you think cats don't bond with their humans, think again. Baby Bam lived with his human family for approximately 10 years. His family sold their home and temporarily moved into an apartment complex until their new home was ready. While at the apartment complex, Bam escaped their balcony and disappeared. The family searched and searched, but were not able to find him before it was time for them to move into their new home.

A year later, DJ–a SAFCC Trapper Team member–was trapping in the area of the apartment complex when she was approached by a gorgeous, friendly tuxedo cat. The cat was eartipped and already neutered, so she contacted SAFCC and the tuxedo cat was accepted into our Community Cat Adoption Program. Baby Bam was given updated vaccinations, dewormer, and flea treatment. Our foster, Rebecca, scanned him for a microchip and found one! We were then able to track down his family.

Baby Bam's family was overjoyed when we contacted them to let them know he had been found. Bam was overjoyed to be reunited with them. The second he saw his human, he started purring and kneading on his bed. He knew exactly who she was and was so very happy to see her and finally get to go home again! We are so thrilled that we could be part of this joyous reunion. If you need to have your pet microchipped, Animal Care Services offers free or low-cost microchips to SA and surrounding residents. Learn more HERE.
---
Catch of the Day- Never give up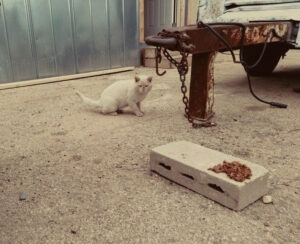 A two-person SAFCC team of trapping buddies has worked with a San Antonio company near the airport for years, trapping a dozen cats on property. Many more cats were trapped outside the perimeter, since the trapper team was able to access the property only during working hours. In all these years Cujo, the king of the jungle, refused to volunteer for a neuter.
Looking for ways to outsmart this cat, the team worked with the owners to have employees set the traps. Within a week, a call came from the employees: they had trapped Cujo and his kitten-bearing companion Sister. The trapper team transported Cujo and Sister to the Humane Society clinic and put an end to their constant breeding. When the clinic noted that Cujo had severe dental disease, the trappers had their own veterinarian take care of that situation. After recovery care by the team, both cats returned to their company home. Cujo has a new lease on life and can retire from his life of procreation.
---
Free spay/neuter surgery for 333 community cats in 78212 and 78209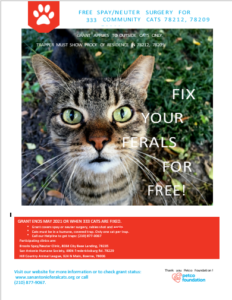 We are grateful to the Petco Foundation for awarding us this grant to fix 333 outside cats in the 78209 and 78212 zip codes for free. The rabies vaccination is included, however any other vaccinations are at the trapper's expense. Trapper must show proof of residence in 78212 and 78209.
Start Date: August 1, 2020
Participating Clinics: San Antonio Humane Society, Brooks Spay/Neuter Clinic and Hill Country Animal League in Boerne.
Click HERE to view the grant flyer for details. Grant ends May 2021 or until 333 cats are fixed. If you do not reside in these zip codes, please visit our website HERE to see what surgery specials are available.
---
Help us continue to do this important work for our city, please DONATE!