---

TNR Classes
SAFCC offers free TNR classes. These classes are open to the public and are available both on-line and in-person. Learn how you can help outdoor community cats using the ONLY method that works! By attending one class, you will learn the basics about the TNR process; how to safely and humanely manage and reduce the outdoor cat population numbers; low-cost spay/neuter options; free trap loan resources; after-surgery recovery protocols; and how to help solve cat nuisance problems.
On-line TNR Class:
The on-line class can be viewed on a computer (recommended) or a phone at any time. To receive instructions for watching the on-line class, please fill out this on-line form. After you submit the form, an email will be sent to you.
In-person TNR Class:
The in-person class is held on the 2nd Saturday each month at the SAFCC Office, 78216, 12:00pm–1:30pm (registration required). Traps and t-shirts are available for purchase at this class. Attendance is limited to 10 people.
To register for an in-person class, please fill out this in-person class form. Safety measures for in-person class attendance:
All attendees must wear a mask. No exceptions.
Seating will be 6 ft apart.
One-on-one Training:
We are doing one-on-one training for those with pregnant cats. Please do not wait until the cat is ready to deliver to call us! Helpline: 210-877-9067.
See the TNR Resources page for current spay/neuter clinic information.
---

Thank you for your generous donations!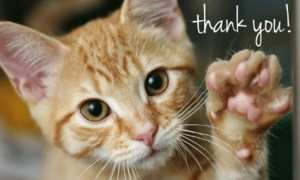 We are so grateful to those who donated to our Community Cat Adoption Program fundraiser. Thanks to your generosity, we were able to surpass our fundraising goal of $10,000! With the onslaught of kitten season and limited clinic hours, our CCAP team has been busy saving cats and kittens off the street. When our CCAP funds are low, the ability for our team to take in additional fosters is threatened. Your donations make all the difference. If you'd like to support the fundraiser while it's still active, please click HERE.
---
Get a cool sticker and support SAFCC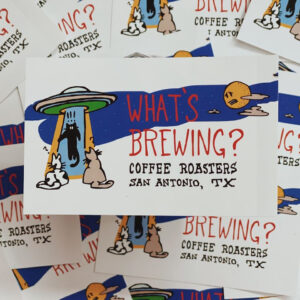 Stop by What's Brewing? to grab some great coffee and a cool sticker featuring community cat Midnight. Midnight was a feral that showed up at their warehouse and who SAFCC volunteer Megan, helped trap and fix. The coffee company became smitten with the cat and named Midnight as their honorary warehouse cat. Midnight is now gone, but this cool sticker honors her memory. Stickers are $1 each and all proceeds from their sale go to SAFCC. Thanks so much to What's Brewiing for being a friend to ferals and for supporting our work with community cats.
---
Save the date for The Big Give 2020 on September 10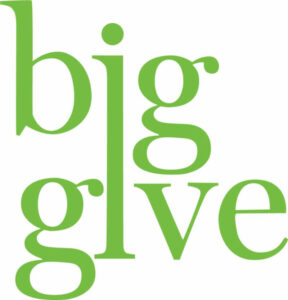 Please save the date for this year's rescheduled The Big Give fundraiser on Thursday, September 10, 2020. As our biggest fundraiser of the year, The Big Give provides necessary funds for many of the programs that SAFCC operates in the community.
Stay tuned here on our newsletter and our website and social media for updated information about this fundraiser.
---
Tune in for an interview with SAFCC President Sherry Derdak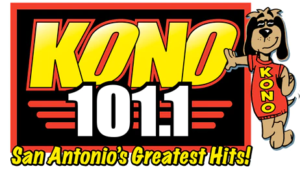 Tune in on Sunday, August 2, to KONO to listen to a prerecorded interview with SAFCC President Sherry Derdak. Sherry discusses the various ways the COVID pandemic has effected our organization, community cats, colony caretakers, TNR partner clinics and TNR efforts.
The interview airs on Sunday, August 2, at 6 A.M. on Y100 and KSMG and 6:30 A.M. on KISS, KONO AM/FM, KTKX and KKYX. It will run again on August 9 at 6:30 A.M. on Y100 and KSMG and 6 A.M. on KISS, KONO AM/FM, KTKX and KKYX. As always, the interview will also be available on the KONO website HERE after air-date for listening or downloading at any time.
---
Cat of the month: Lucky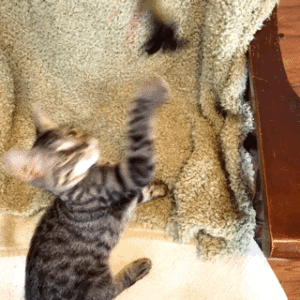 Meet Lucky Skywalker a sweet brown tabby who got his name because he literally fell out of the sky when he was dropped by a hawk who wanted him for dinner. A SAFCC foster took Lucky in who required surgery but is now fully recovered. Lucky is a very affectionate, playful, healthy kitten, who still has at least 7 of his 9 lives left!
Lucky has amazing tabby markings with both stripes spots, somewhat like a Bengal. Like most kittens Lucky can be very active, but he especially likes to be a lap cat. Sometimes he wants to be a shoulder cat will climb up the back of your chair to get to his favorite perch. He gets along with other cats and is familiar with his foster mom's 2 big Labrador-cross mutts. If you are interested in Lucky, please email his foster mom Donna HERE.
The adoption fee of $85.00 includes spay, rabies & FVRCP shots, feline leukemia and FIV tests and a microchip. For all of our adoptable cats, please visit our PetFinder page HERE.
---
Book signing event for SAFCC friend and author Janet Dumas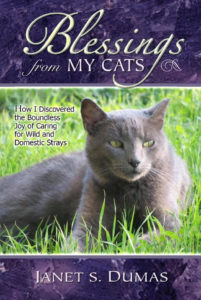 Please stop by and visit with SAFCC friend and San Antonio author Janet Dumas as she signs copies of her book, "Blessings from my Cat." The book is a love letter to the community cats that Janet has cared for in her life.
Blessings from my Cat Book Signing
The Twig Book Shop
Saturday August, 15,2020
11:00 AM-1:00 PM
306 Pearl Pkwy, Suite 106
San Antonio, TX 78215
Stop by, grab a book and talk cats with like-minded people!
---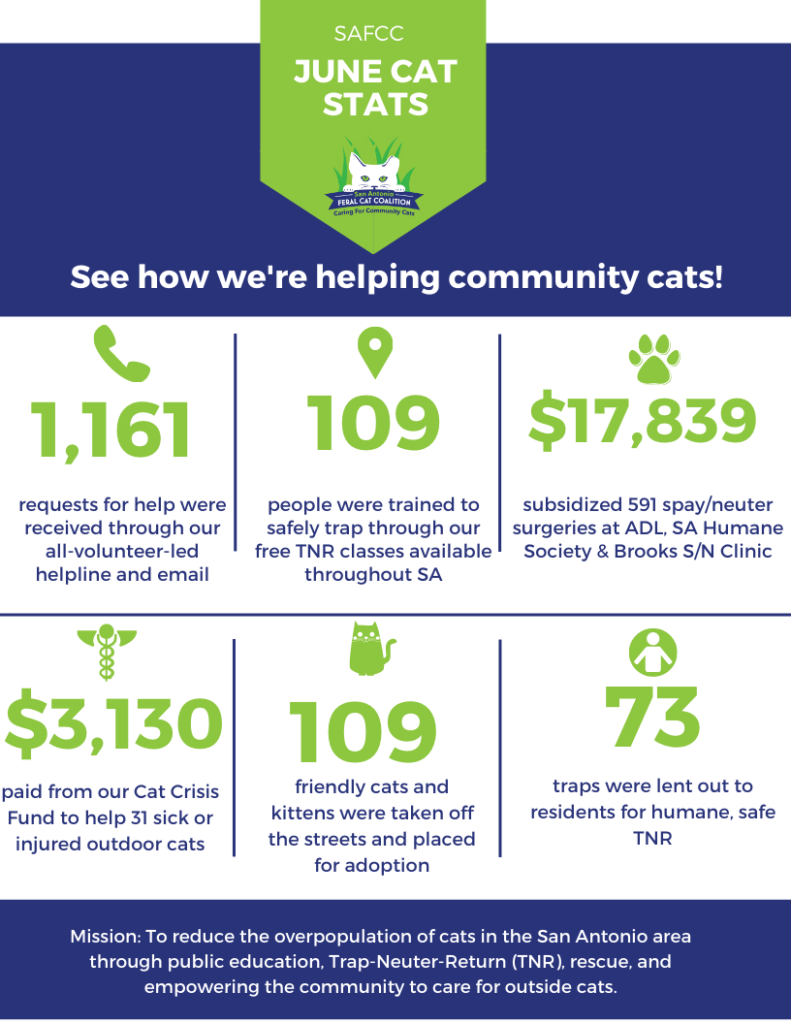 Help us continue to do this important work for our city, please DONATE!