---
Our Community Cat Adoption Program needs your help!
Our CCAP group is in need of donations to help offset the rising cost of spay/neuter expenses and vet bills for sick kittens in our care. To date we have rescued over 600 friendly strays and kittens off the streets and are still in the midst of kitten season.
CCAP may be one of the smallest foster programs in the city, but we are making a huge impact! We are completely funded by donations and currently have 290 cats and kittens in foster care, who are in need of spay/neuter, vaccinations and medical treatment. Some of the kittens that come into our care are in bad shape, severely malnourished, requiring intensive care before they are "adoption-ready". Our fosters are miracle workers! If you'd like to help us provide the necessary care for kittens, please click on the Giving Grid banner below and select a donation amount. Thank you!
---
SAFCC trapper team off to a good start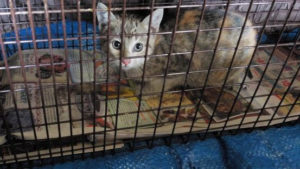 The 2019 SAFCC Trapper Team has a good start trapping and fixing 549 cats in the first Quarter of 2019! Our San Antonio Area Foundation grant will pay trappers to Trap-Neuter-Return (TNR) 1,750 cats this year–so only 1,201 cats to go! This generous grant was funded to help feeders who are physically unable to trap.
For those who can trap, a few tips as warmer weather arrives:
Please leave water in the trap all night before surgery. Chances are the cat is dehydrated.
Recovery should be in a mild temperature (not freezing A/C or a hot garage).
Do not leave traps on hot asphalt. The metal can absorb the heat and burn paws.
Watch for ants – you may need to use a moat around food bowls, click HERE for a DIY tip.
Please visit Alley Cat Allies' website for more summer weather tips.
Thank you to all the trappers out there who are helping to reduce the suffering of outside cats with TNR! If you can't trap but want to support our TNR efforts you can donate to our Trapper Team fund so that trapping can continue after our grant funds run out! Click HERE to donate!
---
Donate to our Amazon Wishlist
SAFCC's Feral Food Program is a small but growing service that we provide to colony caretakers who cannot afford to feed the fixed cats in their care. These individuals will sometimes forgo food for themselves so they can feed their colonies. Please consider a donation from our Amazon Wishlist to support our effort to help those who help community cats.
---
Cats of the month: Punoji and Tiara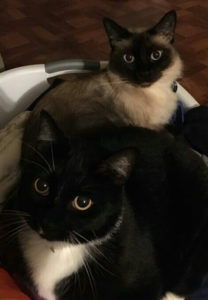 Meet our SAFCC cats of the month! Punoji (male Burmese) and Tiara (female Tux) are a beautiful bonded pair. Their original family had to move out of state for work last year and were left with different family members temporarily but were never picked up so SAFCC took them in to find them a permanent home.
We don't know if these two are siblings but they have been together since both were kittens. Punoji and Tiara are sweet, gentle, and quiet cats. They are good with adults, kids, other cats, and most dogs. It is so cute to hear them grumble at one another over the preferred food dish or the best sunny spot. If Tiara gets nervous and calls out, Punoji will rush to her side; he is such a gentleman. They are like an old married couple, just looking for a peaceful, quiet home to share with the right family. Adoption fee of $100 for the pair. Must be adopted together.
If you want to meet Punoji and Tiara, they are currently at our cat cubicles at the Petco on Bandera and 1604. Alternately, you can email their foster mom Kim HERE.
---
Petco volunteers needed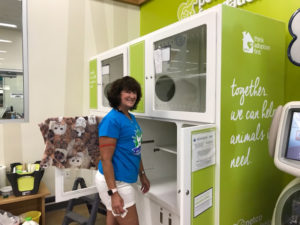 Our Community Cat Adoption Program needs volunteer cleaners at our newest Petco location on 11398 Bandera Road. Volunteers will water and feed, scoop litter boxes, do light cleaning, and play with cats and kittens. This volunteer opportunity is a one-hour commitment once a week. If you're interested, please contact: Susan at (210) 803-9334 or Kim (210) 275-4736 or fill out our volunteer application.
---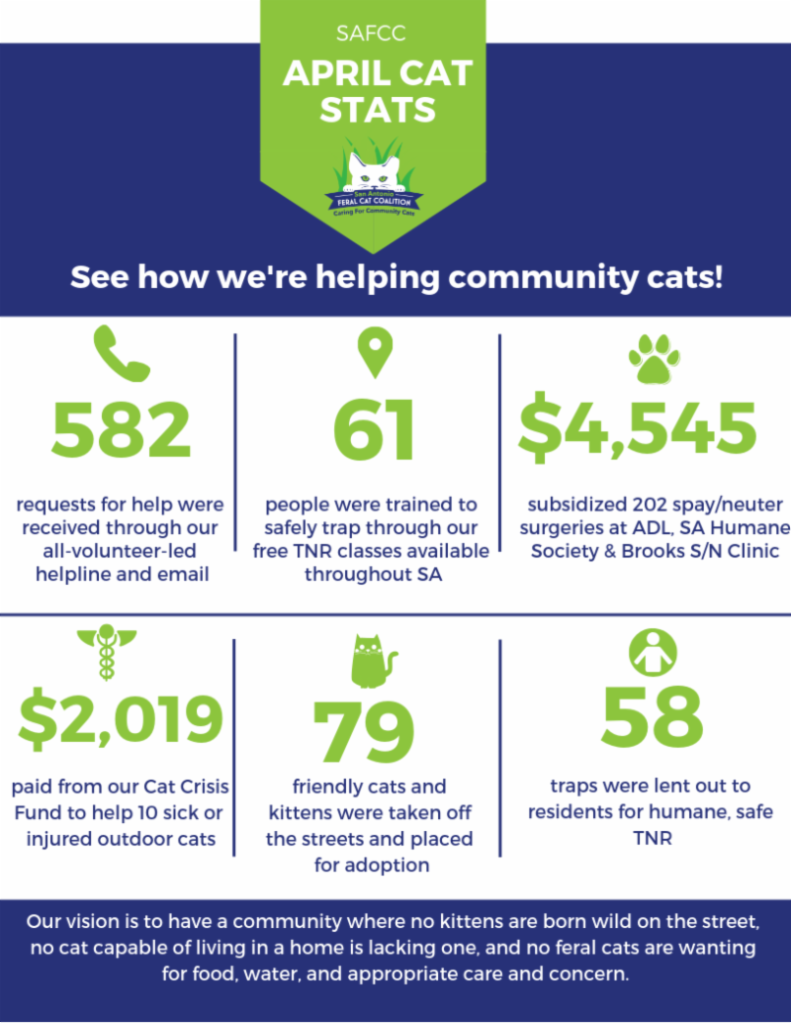 Help us continue to do this important work for our city, please DONATE!