---
Sign Up For Our TNR Classes!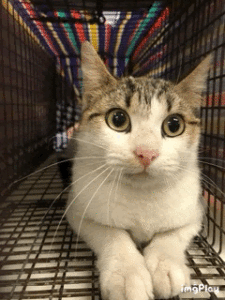 SAFCC offers free TNR classes. These classes are open to the public and are available both on-line and in-person. Learn how you can help outdoor community cats using the ONLY method that works!
By attending one class, you will learn the basics about the TNR process; how to safely and humanely manage and reduce the outdoor cat population numbers; low-cost spay/neuter options; free trap loan resources; after-surgery recovery protocols; and how to help solve cat nuisance problems.
To learn more about our TNR classes please click this link.
---
Help us help more cats like Noodle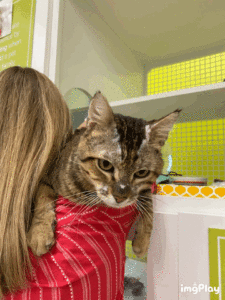 Noodle and Dumpling were taken in by SAFCC as a possible cruelty case. Their owner surrendered them to our Community Cat Adoption Program so that we could begin critical medical treatment right away. Unfortunately, Dumpling did not survive his injuries, but Noodle has healed and thrived in our foster care program. In fact, he is a sweetheart and is now available for adoption and looking for his forever home!
Fortunately, thanks to our Cat Crisis Fund, we were able to provide medical care for Noodle and Dumpling. Unfortunately, cases like Noodle and Dumpling are not rare. In fact, last month, SAFCC spent double the amount in March to treat twice as many sick or injured cats with CFF than we had the previous two months ($3,175 to help 24 cats compared to
$1,304 and $1,108). If you want to help other cats in need like Noodle, please consider a donation to our Cat Crisis Fund HERE. If you would like to find out about adopting Noodle, please email our adoption team HERE.
---
TNR Tales – From not a "cat person" to cat supporter!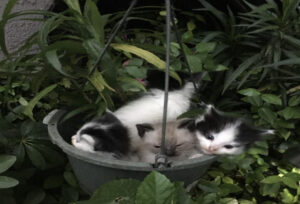 A condominium complex in NW San Antonio had quite a few stray cats and kittens when one resident asked for help. A SAFCC Trapper Team member spoke with her and other residents who were feeding outdoor cats about how TNR helps. All were interested. When they met with Pamela, the Condo Board President, about what SAFCC could do, she also got on board. Pamela
actually had a female cat who had kittens on her patio — real beauties. After more meetings and planning, the association provided funding and the TNR project began. Pamela came to watch the trapping process–seeing is believing! Eventually, Pamela learned to bait and set a trap and the same day she had a cat in the trap! There was a good laugh with Pamela as she indicated she "really wasn't a cat person." Even though the mom cat moved her kittens (pictured here) to a second story balcony, SAFCC and Pamela worked together to get them fostered and adopted. Cooperation from interested residents resulted in the successful TNR of ten more cats. Great work everyone!
The TNR project went well, and the residents are pleased that the cat population will remain at a manageable level. If you have a cat overpopulation problem, the time to act is now! Please sign up for our TNR class HERE.
---
Kitten 101 class held for bottle baby fosters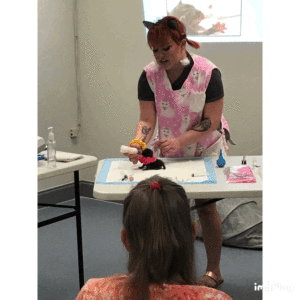 We want to thank Mary Finch and Meagan from the Helotes Humane Society for giving two presentations to our bottle feeder fosters. Instruction also included tube feeding and SQ fluids on live kittens.
The presentations received "rave" reviews and we are now better prepared to care for the many requests we are receiving daily to care for abandoned kittens.
---
Trapping leads to successful reunion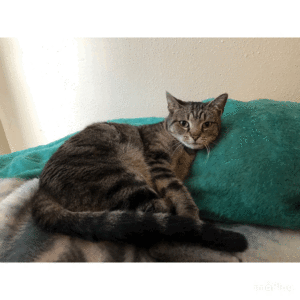 In October 2020, this sweet tabby started showing up at Crystal's apartment. The Monday of the snow storm, Crystal heard Shelby crying at her door to get into an apartment–she was freezing. Crystal has a number of cats inside but she just couldn't leave her out in the terrible weather so she let her in and sheltered her from the storm. Shelby made herself at home in the spare bedroom. The more Crystal watched her, the
more she knew she had to belong to someone. Crystal wanted to make sure Shelby didn't have any kittens so she called SAFCC volunteer Sandy about taking her in to get fixed. Sandy has been working with Crystal to get all the cats at her apartment complex fixed for over a year. Sandy took the friendly cat to to be fixed and had her checked for a chip.
Lucky for us she was chipped and the information of the chip was still correct and Sandy was able to make contact with the owner. Abigail who lives in Harlingen Texas was floored when she realized Shelby Lynn was found and was in San Antonio. Shelby Lynn had been missing for over a year! She has no idea how she got all the way to San Antonio. During the storm her kids told her that they hoped that someone had Shelby Lynn safe and warm inside away from the storm. They still missed her. They had continued to worry about her and looked for her for a very long time after she went missing. The Cruz family was very anxious to get her back. Crystal and Sandy met Abigail and the entire family halfway in Alice, Texas to get Shelby Lynn back home. Her children had no idea why they had gone all the way to Alice,Texas for lunch and were thrilled that it was to surprise them with their missing kitty! What a happy reunion!
---
50 slots left for FREE spay/neuter with our Petco Foundation grant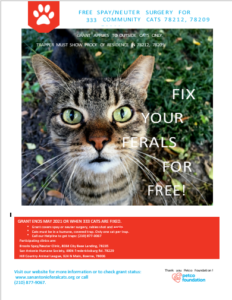 We are grateful to the Petco Foundation for awarding us this grant to fix 333 outside cats in the 78209 and 78212 zip codes for free. The rabies vaccination is included, however any other vaccinations are at the trapper's expense. Trapper must show proof of residence in 78212 and 78209.
Start Date: August 1, 2020
Participating Clinics: San Antonio Humane Society, Brooks Spay/Neuter Clinic and Hill Country Animal League in Boerne.
Click HERE to view the grant flyer for details. Grant ends May 2021 or until 333 cats are fixed. If you do not reside in these zip codes, please visit our website HERE to see what surgery specials are available.
---
Help us continue to do this important work for our city, please DONATE!