---
TNR Classes
Due to the COVID-19 safety measures, TNR classes will have limited attendance by reservation only.
Class schedule for June:
June 7 – On-line (emails will be sent to confirm and give a link for watching)
June 14 – ADL 12:00 – 1:30pm (registration required)
June 16 – SAFCC Office 6:30 – 8;00pm (registration required)
June 28 – Animal Care Services 2:00 – 3:30pm (registration required)
Safety measures for class attendance:
All attendees must wear a mask. No exceptions.
Seating will be 6 ft apart.
No social gathering before or after class.
We are working on an online course and are doing one on one training for those with pregnant cats. Please do not wait until the cat is ready to deliver to call us! Helpline: 210-877-9067.
---
See the TNR Resources page for current spay/neuter clinic information.
---
CCAP grateful thanks for kitten food
Thank you so much to those who answered our call for kitten food with their donations! As kitten season ramped up, our Community Cat Adoption Program fosters were in dire need of kitten food and these donations were such a big help! Pictured here are just a few of the donations that were received from our CCAP Amazon Wishlist.
SAFCC's Community Cat Adoption Program is a small, all-volunteer organization that saves hundreds of friendly cats and kittens off the street. These efforts are done through donations only. Please consider a donation to support CCAP by clicking HERE.
If you'd like to adopt a cat, please view our adoptable cats online. Adopting one cat opens the space for a foster to take in another, Check our website HERE.
Lastly, consider a donation via our Amazon Wishlist. Thank you!
---
Support these local retailers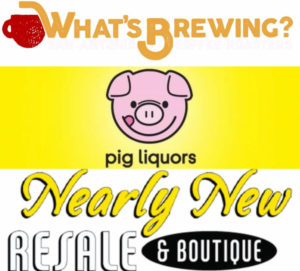 Please consider supporting these SAFCC supporters and local retailers in whatever form of business they resume:
What's Brewing – This coffee roasting company has run fundraisers for SAFCC and even has their own community cat mascot, Midnight!
Pig Liquors – This locally-run liquor store has been a long-time SAFCC supporter and recently held a fundraiser for us during their 10-year anniversary event.
Nearly New Resale & Boutique – This small business and resale shop is currently still closed, however, in the future, when you are ready to shop for "nearly new" ladies clothing and accessories at budget prices, please consider them. This is our "consignment for cats" store and SAFCC receives 50% of the sale of items you drop off for us.
Thank you, as always, for your support of community cats and stay safe!
---
Cats of the month: Twyla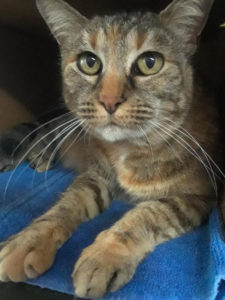 Meet Twyla, one of the prettiest torties you may have ever seen, Twyla was one of many abandoned cats located at an apartment complex. Unfortunately, it is very common for people to move out of their apartments and to leave their cats to fend for themselves. Fortunately for Twyla, Debbie, a lady who works in the area, took her home and called SAFCC for help. Debbie cared for Twyla until a CCAP foster was able to take her in and get her ready for adoption.
Twyla takes life in stride, exuding stability and calmness. She's a talker and will carry on a conversation if encouraged. She is always easy-going, cooperative and totally, soundly in control. Twyla is estimated at 6 years old and FIV positive. If you would like to meet or adopt Tywla, contact his foster mom Susan at (210) 803-9334 or email her.
For all of our adoptable cats, please visit our PetFinder page HERE.
---
Adoption Success: Winston
Nobody knows how Winston came to be shot in the right shoulder by a small caliber gun. He was a neighborhood cat a SAFCC volunteer had tried to trap for months until finally Winston showed up on her front porch just waiting to be scooped up and put in a trap without a fuss. Thanks to emergency surgery at Animal Care Service's clinic, Winston was treated for his injury and neutered. While he convalesced, Winston showed his tame side and was too friendly to turn loose in the same neighborhood where he was shot. Winston is now healthy and fully recovered from his gunshot wound and has found his forever home! In fact, Winston has definitely moved up from his humble street cat beginnings in life and was adopted by a dentist and his wife. Winston's parents also have plans to adopt one of Winston's foster siblings so he will have a feline friend. Good luck to you, Winston!
---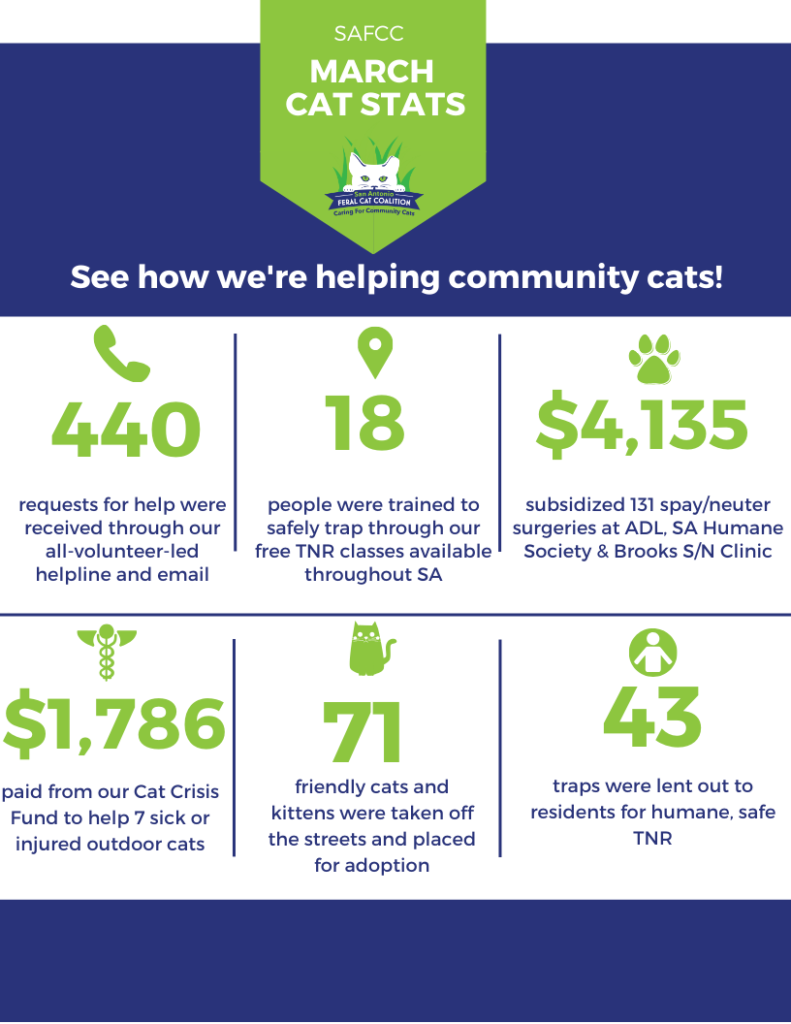 Help us continue to do this important work for our city, please DONATE!