---
Clinic Closures
Brooks Spay/Neuter Clinic:
Closed October 26 – 30 for feral surgeries.
For more information about participating clinics and their days/hours, please visit HERE.
---
TNR Classes
SAFCC offers free TNR classes: On-line TNR Classes, In-person TNR Classes and One-on-one Training. These classes are open to the public and are available both on-line and in-person. Learn how you can help outdoor community cats using the ONLY method that works! By attending one class, you will learn the basics about the TNR process; how to safely and humanely manage and reduce the outdoor cat population numbers; low-cost spay/neuter options; free trap loan resources; after-surgery recovery protocols; and how to help solve cat nuisance problems.
To learn more about our TNR classes please click this link.
---
Trap loan volunteer needed on South East side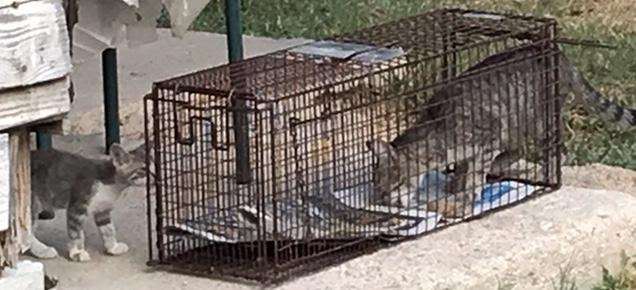 We are in need of a trap loan volunteer on the southeast side of San Antonio. If you have attended our TNR class and can meet the below requirements, please email us at info@sanantonioferalcats.org.
The minimal requirements are:
Vehicle large enough to hold several traps.
Storage for 10 – 15 traps, out of the elements.
Be able to meet people to loan traps 7 days a week.
Be able to keep track of trap loans and provide a monthly report to Trap Loan Lead.
The southeast side of San Antonio is a great area of need, so this position is vital. Thank you!
---
Join us for Spirit Night at all four Wilie's Grill & Icehouse locations
We hope to see you for lunch or dinner at Willie's on Tuesday, October 20 for our Spirit Night fundraiser benefiting our Cat Crisis Fund. This fundraiser will be at all four locations:
You must mention you are there for SAFCC and see "Spirit Night" on your check. We get 15% of sales including adult beverages ALL DAY. For those who prefer not to dine in, to-go orders are included! Online orders will not be included in the fundraiser total. Click HERE to download and share the flyer. Please share with your friends! This fundraiser benefits our Cat Crisis Fund which provides medical care for sick or injured community cats. Can't go to Willie's but you'd still like to support this program? Please consider a food donation via our website HERE.
---
Cat of the month: Daniella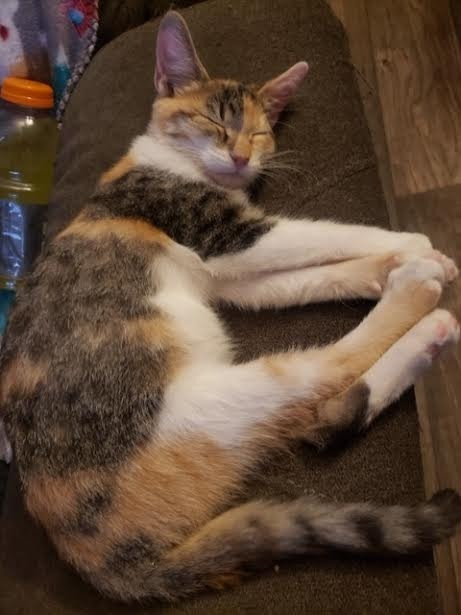 Meet Daniella, a 4-month-old female calico. She was found at a colony her foster mom cares for. Daniella's foster mom saw how friendly Daniella was and took her in to foster until Daniella was ready to find a home.
Daniella is a playful, sweet, active gal. She loves rubs and attention, to chase her toys and run though tunnels. Daniella is very social and affectionate with other cats and dogs.
If you are interested in Daniella call/text her foster mom Lorraine at 210-471-8462 or send an email HERE.
Daniella's adoption fee is 100.00 which includes FVRCP/Rabies Vaccinations, Spay/Neuter, Microchipping and Combo Tested for Heartworms/Feline Immunodeficiency Virus/Feline Leukemia. All fosters under San Antonio Feral Cat Coalition Community Cat Adoption Program are fostered privately through foster homes and fully vetted.
The adoption fee of $85.00 includes spay, rabies & FVRCP shots, feline leukemia and FIV tests and a microchip. For all of our adoptable cats, please visit our PetFinder page HERE.
---
Free spay/neuter surgery for 333 community cats in 78212 and 78209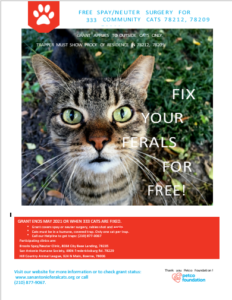 We are grateful to the Petco Foundation for awarding us this grant to fix 333 outside cats in the 78209 and 78212 zip codes for free. The rabies vaccination is included, however any other vaccinations are at the trapper's expense. Trapper must show proof of residence in 78212 and 78209.
Start Date: August 1, 2020
Participating Clinics: San Antonio Humane Society, Brooks Spay/Neuter Clinic and Hill Country Animal League in Boerne.
Click HERE to view the grant flyer for details. Grant ends May 2021 or until 333 cats are fixed. If you do not reside in these zip codes, please visit our website HERE to see what surgery specials are available.
---
Help us continue to do this important work for our city, please DONATE!