Adoptable Cats
Cat of the month: Purdy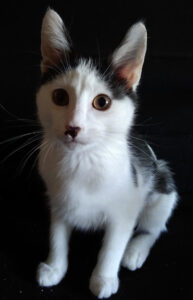 Hello? Is it me you're looking for?
This sweet 6-month old kitten is Purdy (aka "Purdy Pants") He's a loving and spunky boy who loves to play, especially if it involves chasing toys into tissue paper! Purdy also enjoys running amok or rough-housing with other kittens in the house! When that's done though he'll climb into his bed and get in a vigorous kneading session with very loud purrs. Purdy is very talkative, especially around feeding time!
Purdy's life wasn't always so carefree. He
He had a gut protozoan called coccidia that resulted in a rectal prolapse. Purdy underwent three surgeries to save his young and promising life. His last surgery, a colopexy, was performed last month and Purdy has been hailed as a success! Now Purdy will live a normal healthy life and will definitely need a playmate wherever he goes as he can be quite rambunctious. If you would like to adopt Purdy, please email his foster mom Rebecca at becca@redbolt.net
The adoption fee of $85.00 includes spay, rabies & FVRCP shots, feline leukemia and FIV tests and a microchip. For all of our adoptable cats, please visit our PetFinder page HERE.
---
Check Out Our Online Adoptable Cats
---
Below is a list of cats that we have rescued and currently have available for adoption.
Please note: We do not ship our cats, provide any transportation, or do out of state adoptions.