Adoptable Cats
Cat of the month: Tobias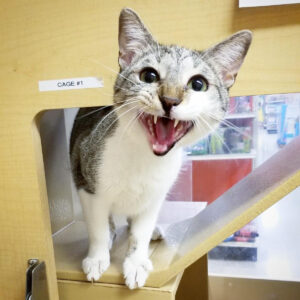 Tobias is a one year old boy who loves everyone (except dogs) and is super playful and affectionate. He has chronic Feline Herpesvirus that started in kitten-hood, when he was found at a worksite with his eyes crusted shut at only 5 weeks old. Most cats are exposed to this virus during their lifetime and most recover with no lasting issues. Tobias was just one of the unlucky few.
Tobias gets flareups occasionally when stressed and his first one after his initial infection caused him to develop chronic asthma and nearly lose both eyes. Keeping his stress levels low means he can't go to adoption events or stay in the PetSmart adoption centers, which unfortunately hurts his chances at finding his perfect forever home. He loves having other cats to play with and as long as any future cat siblings are kept up-to-date on vaccines, Tobias can live with herpes-negative cats.
Tobias is just so handsome, fun-loving and sweet, he deserves a forever home of his own where he can have all the attention he needs! If you are interested in meeting Tobias, please email his foster mom Melissa at ellysialain@gmail.com.
For all of our adoptable cats, please visit our PetFinder page HERE.
---
Check Out Our Online Adoptable Cats
---
Below is a list of cats that we have rescued and currently have available for adoption.
Please note: We do not ship our cats, provide any transportation, or do out of state adoptions.