Adoptable Cats
PET OF THE MONTH
Punoji and Tiara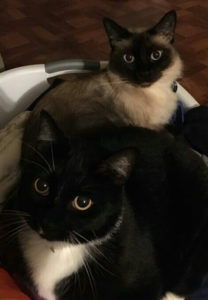 Meet our SAFCC cats of the month! Punoji (male Burmese) and Tiara (female Tux) are a beautiful bonded pair. Their original family had to move out of state for work last year and were left with different family members temporarily but were never picked up so SAFCC took them in to find them a permanent home.
We don't know if these two are siblings but they have been together since both were kittens. Punoji and Tiara are sweet, gentle, and quiet cats. They are good with adults, kids, other cats, and most dogs. It is so cute to hear them grumble at one another over the preferred food dish or the best sunny spot. If Tiara gets nervous and calls out, Punoji will rush to her side; he is such a gentleman. They are like an old married couple, just looking for a peaceful, quiet home to share with the right family. Adoption fee of $100 for the pair. Must be adopted together.
If you want to meet Punoji and Tiara, they are currently at our cat cubicles at the Petco on Bandera and 1604. Alternately, you can email their foster mom Kim HERE.
---
Check Out Our Online Adoptable Cats
---
Below is a list of cats that we have rescued and currently have available for adoption.
Please note: We do not ship our cats, provide any transportation, or do out of state adoptions.