---
Please visit our Adoption page to find your forever companion so we can resume intake of homeless cats & kittens.
---
#GivingTuesday a huge success
We met and exceeded our #GivingTuesday goal! Our supporters generously donated $3,586 toward our Community Cat Adoption Program! Thank you so much for those of you that gave to the San Antonio Feral Cat Coalition on #GivingTuesday. We know there are many worthy organizations out there and we are glad you gave to ours. Thank you!
---
Upcoming Events
December 10 – Christmas Bazaar Fundraiser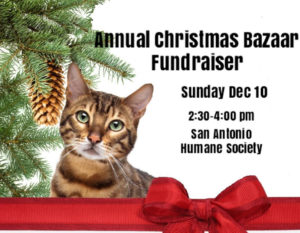 Location: San Antonio Humane Society
Time: 2:30-4:00 PM
Save the date and get your Christmas shopping started at our annual Christmas Bazaar Fundraiser. Featuring many cat-themed gifts, there is sure to be something for that cat-lover in your life! Christmas music and refreshments will get you into the holiday spirit!
December 2, 9, and 16 – Take a photo with Santa and support SAFCC
Join us on December 2, 9, and 16 for Photos with Santa at these following Petco locations:
December 2: Petco at Austin Highway
December 9: Petco at DeZavala and Vance Jackson and Petco at 410/San Pedro
December 16: Petco at Stone Oak
The event is from 1-4 PM. This year's photo event is completely digital! Pet parents simply donate $9.95 to have your pet's photo taken with Santa and you will be sent an email with your photo within minutes! All proceeds will go toward SAFCC's Community Cat Adoption Program. Many thanks to the Petco Foundation for this fundraising opportunity.
---
Support SAFCC while you shop this holiday season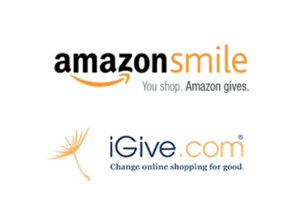 If you use Amazon, shop for everyone on your gift list this holiday using Amazon Smile. When you select SAFCC as your charity of choice, Amazon will donate to our organization every time you shop!
Do your online shopping at iGive that features over 1800 partner stores and up to 26% will be donated to SAFCC when you select us as the cause of your choice. Register today!
Support the San Antonio Feral Cat Coalition when you shop. It's fast, easy and–best of all–it's free!
---
Adopt a special needs cat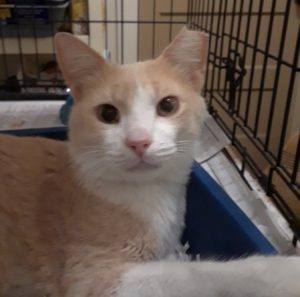 Jerry is a good-looking fellow who has lived on the streets all his life. Jerry went for examination by an eye specialist and for tests. Unfortunately, Jerry tested positive for feline leukemia which is causing his eye problems. His condition is known as uveitis, a painful and potentially blinding inflammation. He takes eye drops when needed to reduce the inflammation and the pain. Because of the care he needs and his decreased vision, Jerry needs an indoor home.
Having feline leukemia means that Jerry needs to be an only cat or in a household with other leukemia-positive cats. Feline leukemia is species-specific and does not infect other pets, such as dogs. Happily, Jerry is a friendly guy who loves to be petted and talked to. He is a champion lap-sitter and couch potato. He is quiet and spends much of his day snoozing. He is a good eater and loves his canned food especially. Although it is undoubtedly painful, he shows remarkable patience when he has to get his eye drops. Jerry is estimated to be 5-6 years old and is current on rabies and FVRCP vaccinations. Who knows what the future holds? There is no way to know how long he will live with leukemia. The recommended treatment is to give him a quiet home with nutritious food, water, good veterinary care, and lots of love.
Interested in adopting Jerry? Please email Kay or text/call (210) 366-4345.
You can view all of our special needs cats HERE.
---
San Antonio Area Foundation awards SAFCC Trapper Team grant

The Animal Services Community Advisory Committee and the Board of Directors of the San Antonio Area Foundation, awarded a $32,000 grant to the San Antonio Feral Cat Coalition for our Trapper Team. We are appreciative of this generosity that demonstrates the Area Foundation's belief in the importance of the work we do.
Our Trapper Team program supports our efforts to do TNR on cats that are fed by the elderly or disabled, and at businesses or apartment complexes where there is no one else to trap.
---


Virginia Brown, 2017 Proctor Award Recipient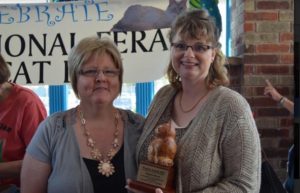 Every year at our Volunteer Appreciation Luncheon, the Proctor Award is given to the person who has done the most to support our mission. The SAFCC Board of Directors votes on submissions from the public. There are always many worthy candidates and thank you to those who took the time to submit nominations.
This year's recipient, Virginia Brown, exemplifies what it means to be a valued SAFCC volunteer. Virginia is pictured with Susan Schmahlenberger, our 2015 Proctor Award winner, who nominated Virginia. As a helpline volunteer, Virginia shared resources and information with the community, tackled difficult TNR projects on her own and as a part of the SAFCC Trapper Team, spread the word about TNR and SAFCC by speaking to HOAs, and has saved numerous cats and kittens off the streets as a foster for SAFCC's Adoption Program. Congratulations, Virginia, and thank you!
"I have learned and grown from each and every person I have met in the San Antonio Feral Cat Coalition," Virginia said after receiving the Proctor Award. "I am grateful to be part of the rescue community and an honor to be selected for the Proctor Award."
Congrats, Virginia!
See our photos of the luncheon here!
---

October Cat Stats
$4,740 – subsidized 232 spay/neuter surgeries at Animal Defense League, SA Humane Society & Brooks S/N Clinic
341 – requests for help received via our helpline and email
50 – people were trained to safely trap through our free TNR classes
32 – friendly cats and kittens were taken off the streets and placed for adoption
$1,034 – paid from our Cat Crisis Fund to help sick or injured outdoor cats
82 – traps were lent out to residents for TNR
Help us continue to do this important work for our city, please DONATE!
---

Free SAFCC Trap-Neuter-Return Classes Held Each Month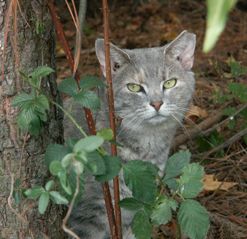 SAFCC runs free classes each month with the occasional "special" when requests are received. These classes are open to the public and are scheduled at various locations around San Antonio. After attending one free class (just one!) you will be able to borrow traps free of charge, gain access to subsidized surgeries, and even get volunteer help if necessary.
The information gained at the class is invaluable and expands your choices particularly if you do not happen to live in an area where grants for free or reduced cost surgeries are being provided at the moment. To see the complete list of classes and events visit our Calendar page. Please arrive 15 minutes early to sign in.
---