San Antonio Area Foundation Grant Awarded To SAFCC
             We are very happy to announce the San Antonio Area Foundation has awarded
             SAFCC a $40,000 grant to cover subsidy expenses for the 5 clinics participating
             in our Subsidy Program: SpaySA, San Antonio Humane Society, Animal Defense
             League, Pet Shotz and Hill Country Animal League. This allows SAFCC to use
             money from donations and fundraisers to support trapping projects and to pay
vet bills for sick or injured cats.
        The San Antonio Area Foundation, celebrating its 50th anniversary in 2014, makes
        grants from funds established by individuals, families, businesses or other entities to
        support charitable causes. The Area Foundation manages more than $250 million in
        assets and has distributed more than $230 million for scholarships and grants to educate
        youth, preserve the environment, protect animals, fund research and provide services
        that enhance the quality of life in our region.
        Thank you San Antonio Area Foundation for making a difference in the lives of
        The San Antonio Feral Cat Coalition
ACS Announces Change to Cat Colony Permit Process
Effective immediately, once an initial permit is approved, colony caretakers will only need to submit a renewal application.There will be no renewal fee and no annual inspection.
Cat Colony Permits are required for any colony that has more than 8 cats.
There is an initial application and permit fee of $10.The permit is approved after the property is inspected by an ACS Permit Officer.
Complaints or concerns about a colony can generate an inspection.
Please let your fellow colony caretakers know of this change.
SAFCC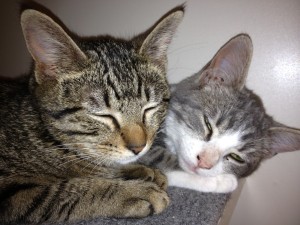 New!  TNR Grant Zip Code Announced!
SAFCC received an extension on our 78227 grant 
with the addition of zip code 78245! 
For the next 6 months (ending Sept 2014) -TNR for outside cats in 
78227
 and 
78245
 is 
FREE
 – no vouchers needed and no class attendance required!  There is a $70 refundable deposit for trap loans.  Call 210-877-9067 or email us at 
info@sanantonioferalcats.org
 .
Time is running out! If you see outside cats in your neighborhood, apartment complex, or business in these zip codes, call and let us know. We will pay trappers to trap them for you. All cats will be returned to the location where trapped.
Spay and Neuter Clinic Updates
The Animal Defense League has decreased feral capacity on Tuesdays from 8 to 5 cats. They are looking for additional vet help to meet their spay/neuter demand.
Pet Shotz is now accepting 5 cats for spay/neuter on Mondays! Thank you, Dr Rogers & Staff!
The Humane Society of San Antonio  will accept ten feral cats for spay/neuter surgeries Monday – Thursday. No Surgeries will be held on Friday, Saturday, or Sunday.  IMPORTANT: The Humane Society of San Antonio will only be able to accept 5 feral cats on June 26 but will hold a make-up day on Saturday, June 28, to accept 8 cats.
TNR Schedule
SAFCC runs four free classes per month with the occasional "special" when requests are received. These classes are open to the public and are scheduled at various locations around San Antonio. Please arrive 15 minutes early to sign in. To see the complete list of classes and events visit our Calendar page.
9/7/2014 (2-4pm) San Antonio Humane Society 4804 Fredericksburg Rd., 78229
9/13/2014  (12 – 2PM)  Church of Reconciliation-Brown Hall 8900 Starcrest, San Antonio 78217
9/20/2014(12-2pm) Thousand Oaks Branch Library 4618 Thousand Oaks Dr, San Antonio 78233
9/24/2014 (6:30-8:30p) Animal Care Services 4710 State Highway 151, 78227
9/28/2014  (2 – 4pm) Spring Branch EMS 353 Rodeo Drive- Spring Branch, TX 78070