---
Fiesta Medal 2017!
Check out our beautiful new fiesta medals!
All proceeds benefit the San Antonio Feral Cat Coalition.
Medals will be out end of March. $10 – $12 each.
---
---
Get involved! 2017 volunteer needs
We are an all-volunteer organization and need your help to continue our programs! Please see the areas where we currently need help. If you are interested in volunteering, the first step is to attend one of our TNR classes.
Helpline – Looking for someone for Tuesday and Thursday and who can commit to a full shift these days. This volunteer opportunity is very rewarding as resources and education are given to desperate callers. Helpline volunteers are dedicated and responsible. Experience with customer service a plus! Extensive training provided.
Community Outreach – Looking for outgoing, fun people to help with our events. Knowledge about what we do and our mission is required to answer questions. OJT provided. People who enjoy teaching and do not mind public speaking are needed for our Presentation Team and TNR Class Team. Subject matter training provided.
Fosters – Looking for people who have time to give to socialize friendly strays and young kittens discovered during our TNR missions. We pay expenses.You will need to bring cats to adoption events and to the vet, if needed. Every year kittens have to be fixed and put back out on the street because there are not enough fosters.You will be saving their lives and enriching your own!
Petco Cleaners – We now operate four Petco stores for our adoptable cats and kittens. We can only keep them if we have cleaners to come every day to clean the cubicles and add food and fresh water.
TNR Class Helpers – This is an easy way to help and you get to meet a lot of new people! We need folks to help at sign-in and people with a laptop to do data entry (entering the attendees into an excel sheet). This is then input into our Master List that is securely maintained with everyone who has ever attended a class – now totaling 6,971!
Bilingual Assistance at TNR Class – Our bilingual TNR classes at Las Palmas and Memorial Libraries need help from people who speak both English and Spanish. Even if you are not ready to be a presenter, we still need people in the class with bilingual skills to assist with the sign-in procedure, and there are always class attendees who want to speak to someone after the class. This is such a great way to help the TNR program so please consider offering us some of your time and talent.
If you would like to help please fill out our volunteer form and join our network! Children under age 18 can staff an information booth at our events or help fundraise, but cannot interact with cats due to possible injury.
---
Looking back on 2016 and ahead at 2017
If success is measured by the sum of small efforts repeated day in and day out, then 2016 was a phenomenal year for the San Antonio Feral Cat Coalition, thanks to you! Check out the 2016 numbers below:
$40,190 subsidized 1,829 spay/neuter surgeries
2,753 requests for help received via our Helpline and email service
825 traps were loaned to the community for TNR
522 people were trained to safely trap through our monthly free TNR classes
377 cats and kittens were taken off the streets and placed for adoption
$3,440 paid from our cat crisis fund to help sick or injured outdoor cats
$3,763 went to provide food support for colony caretakers feeding community cats
Our Cat Stats speak for themselves but behind every number are dedicated, caring people who want to make lives better for our community cats. The stats don't show everything: We received four grants last year from Petco, PetSmart Charities, the San Antonio Area Foundation and a joint ASPCA grant with the Helotes Humane Society. We achieved a long-term goal by offering bilingual TNR Classes and added a Spanish option to our Helpline. A new initiative that will have a big impact in 2017 is our newly-developed Trapper Team!
As we close out the first month in the new year, we are optimistic that 2017 will be one of continued growth – in knowledge, advocacy, and the number of people that care for outside cats. TNR is our mission, but thanks to your support, we are able to do more. We're able to ease suffering, feed the hungry, and find homes for the adoptable so they aren't put back on the street. Thank you!
---
Tails of Success!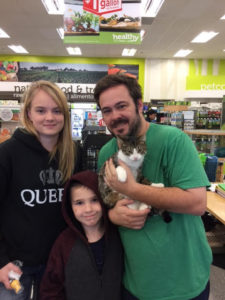 Erin was abandoned and disowned by someone who had once loved her but left her alone to scrounge for survival on a lonely street outside as a young kitten. Thanks to a kind neighbor who had to do something to help, she was rescued and brought to a SAFCC volunteer/foster for safety. Our volunteer cared for Erin until she was able to find a home…for good!
Erin has now found her forever happiness with her new dad and family! We are so happy they thought of the San Antonio Feral Cat Coalition when they were ready to adopt a cat. Adopting a cat from SAFCC supports our efforts to get more friendly cats and kittens off the street!
EMAIL us your success story with a picture so we can publish it HERE and in our newsletter!
---

Free SAFCC Trap-Neuter-Return Classes Held Each Month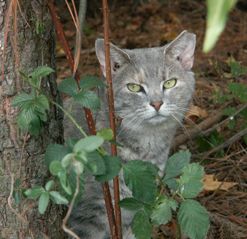 SAFCC runs free classes each month with the occasional "special" when requests are received. These classes are open to the public and are scheduled at various locations around San Antonio. After attending one free class (just one!) you will be able to borrow traps free of charge, gain access to subsidized surgeries, and even get volunteer help if necessary.
The information gained at the class is invaluable and expands your choices particularly if you do not happen to live in an area where grants for free or reduced cost surgeries are being provided at the moment. To see the complete list of classes and events visit our Calendar page. Please arrive 15 minutes early to sign in.