---
Petco volunteers needed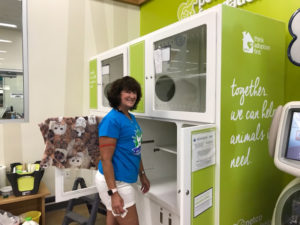 We are currently looking for new Petco cleaner volunteers! SAFCC has been fortunate to have the donated space at various Petcos for our cat habitat, maintained by an all-volunteer staff. Petco provides the space, SAFCC provides the training and supplies, but the volunteers do all the cleaning and care of the cats while they are there. Volunteers dedicate 1-2 hours one day a week to clean and play with the cats. We are saving hundreds of lives and our Petco stores are a major reason we are able to pull kittens off the streets. We can only help them if we have volunteers that can feed and provide a clean environment. We promise spending an hour or two once a week with our adorable cats/kittens will make you happy! If you're interested in becoming part of the team, please contact the person listed below for the designated locations:
Lorraine Cantu at adoptioncoordinator@sanantonioferalcats.org for:
1) Petco-Village at Stone Oak 23014 US-281
2) Petco-Fiesta Trails 12651 Vance Jackson Rd.
Hope Soliz at hsoliz67@gmail.com for:
1) Petco-Terrell Plaza 1211 Austin Highway
2) Petco-La Plaza del Norte 125 NW Loop 410
The cat habitats provide a great opportunity to find families for our cats and also alleviate the strain of some from our fosters. Please help us to keep these habitats!
---
Feral surgery capacity
We are aware of the long lines at Animal Care Services and the impact that Animal Defense League's surgery reduction has had on trappers. San Antonio Humane Society has been helping as much as they can by taking more than their quota at the Fredericksburg location. Also, Brooks Spay/Neuter Clinic rarely meets capacity.
We hope that ADL's reduction is temporary. Please have a Plan B if you are turned away and do not release your cats. There are 230 feral slots per week using ACS and our partner clinics. Our website is updated with information about clinic availability as it is relayed to us.
---
Our 78209 grant has ended
Thank you SpaySA for funding 50 feral surgeries in 78209. This zip code has never been selected for a grant and those living in 78209 know it has a large free-roaming cat population. At least there are now 50 fewer cats that are reproducing. We appreciate ADL and their staff for partnering with us to do these 50 spay/neuter surgeries! Special thanks and recognition to trappers Kathy Benson, Courtney Arispe, Susan Schmahlenberger and Susan Long, for getting this grant done!
---
Donate cat food to SAFCC at Pet Supplies Plus
Look for these SAFCC donation boxes set up at local Pet Supplies Plus locations near you. Donations will go to people feeding large numbers of colony cats that need help. Hugs & purrs to Russell Clark for organizing this for us!
---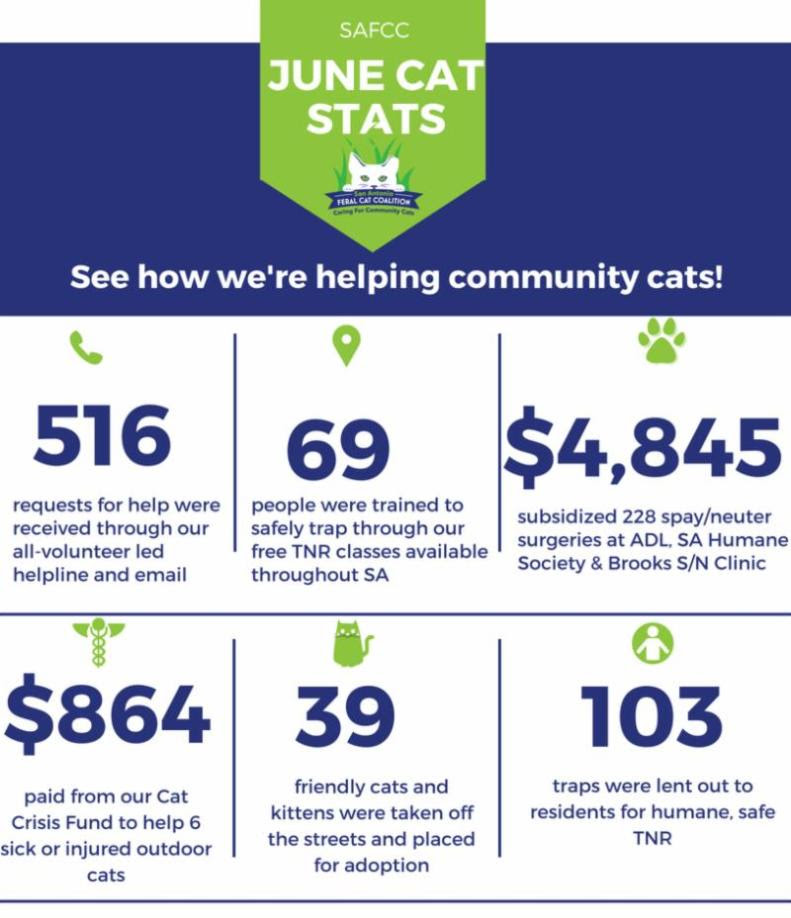 Help us continue to do this important work for our city, please DONATE!