Welcome!
        JOIN US IN CELEBRATING NATIONAL FERAL CAT DAY!

Alley Cat Allies launched the first National Feral Cat Day in 2001. This      special day raises awareness about feral cats and promotes Trap-Neuter-  Return and the best  way to control outside cat populations.

We are celebrating our 10 Year Anniversary this year!
Thanks to the thousands of people who have come through our TNR training and have made life better for our community cats, as a result. We have come a long way in 10 years but have a long way to go before San Antonio's cat crisis is under control.  Our partner clinics are helping us celebrating National Feral Cat Day by offering spay/neuter specials. Please take advantage of these if you can as they will be the lowest spay/neuter prices for the rest of the year.
October 17th (Friday) at SpaySA:  $10 trapper fee – limit is 25 cats
October 25th (Saturday) at Pet Shotz: $10 trapper fee – call 735-1004 for appointment
October 27th (Monday) at Humane Society: $10 trapper fee – limit is 75 cats
All October at HCAL (Mon – Wed) – $15 trapper fee
Please check for clinic details on our TNR Resources page.
      ** You must have attended our TNR Class to get these special rates. **
ACS Announces Change to Cat Colony Permit Process
Effective immediately, once an initial permit is approved, colony caretakers will only need to submit a renewal application.There will be no renewal fee and no annual inspection.
Cat Colony Permits are required for any colony that has more than 8 cats.
There is an initial application and permit fee of $10.The permit is approved after the property is inspected by an ACS Permit Officer.
Complaints or concerns about a colony can generate an inspection.
Please let your fellow colony caretakers know of this change.
FREE SAFCC  TRAP-NEUTER-RELEASE CLASSES HELD EACH MONTH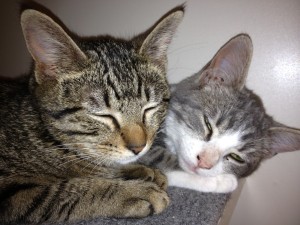 SAFCC runs four free classes per month with the occasional "special" when requests are received. These classes are open to the public and are scheduled at various locations around San Antonio. Please arrive 15 minutes early to sign in. To see the complete list of classes and events visit our Calendar page.
 

New Braunfels Trap, Neuter, Return Ordinance Passed
New Braunfels City Council Trap, Neuter, Return ordinance was successfully passed in August 2014.
The first TNR class since this historic endorsement of TNR is Sunday Oct 19th, 2 – 4PM at the New Braunfels Public Library.
Please encourage everyone you know in and around New Braunfels to attend.
Link to the flyer New_Braunfels_TNR_class_10-19-14 (1)