---
Christmas Party – Fundraiser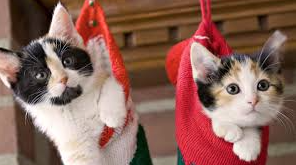 Please join us at our annual SAFCC Christmas party and fundraiser for refreshments & fun!
Location: San Antonio Humane Society
(4804 Fredricksburg Rd, SA TX 78229)
Date: Sunday, December 11
Time: 2-4 PM
This is the place to buy your 2-legged and 4-legged feline friends their gifts! We will also have a Scentsy rep in attendance so you can buy some wonderful scented products. Or just come so we can wish you a purr-fect Christmas!
---

Thank you for thinking of us on Giving Tuesday
You helped us exceed our goal by raising $2,730!
We are humbled by your generosity. We almost tripled our 2016 #GivingTuesday goal! Whether you have supported us for our efforts in TNR, rescue and adoptions, caretaker food support, cat advocacy or for the help we offer ill or injured cats, a million thanks for showing our work is important to you. Thank you!
---
October Cat Stats
Check out SAFCC's numbers from October. We've been busy! Help us continue to do this important work, please DONATE!
---
Proctor Award Winner Chris Bigelow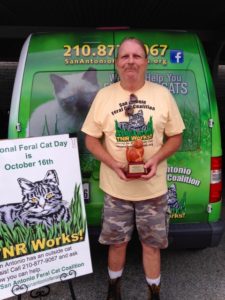 At the National Feral Cat Day luncheon, Chris Bigelow was awarded the Proctor Award for his support of SAFCC's mission with trapping, rescuing, fostering, feeding, educating and advocacy.
Chris Bigelow did TNR on his first cat in October of 2009. Since then he has fixed over 170 cats. Most cats needed TNR only, but some needed necessary medical intervention, and others ended up not being returned, but were placed for adoption. Among his many achievements, Chris:
was instrumental in helping SAFCC complete the PetSmart Charities 78216 grant requirements.
volunteers as a member of the new SAFCC Trapper Team and has rescued and taken sick cats to the vet in this capacity.
proudly reports that he has cleaned up his neighborhood and has not seen kittens in his neighborhood for a while.
volunteers as a Brackenridge Park feeder and is one of their most dependable and reliable feeders.
has fostered for SAFCC and has placed cats for adoption through other shelters.
has delivered food to our Feral Food Program recipients.
Chris gets along well with everyone and that is no small feat in the rescue world! He always speaks highly of our organization, our members, and what we do. SAFCC can count on Chris whether it's to do an assessment of a situation, talk to someone about TNR or fixing their pets, do an urgent rescue,or a TNR mission. Thank you and congrats, Chris!
---
Tails of Success!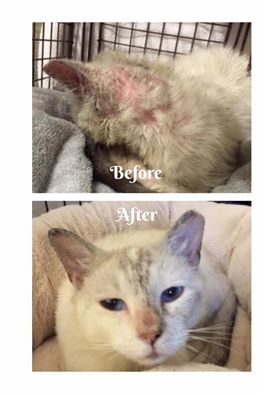 Morracca was living in the woods with a homeless person when SAFCC was asked to help in September 2016. Although her "owner" was doing what they could to help her, Morracca had signs of extreme malnutrition, dehydration and mange. As you can see from her picture, she was skinny, and her fur coat had balding spots.
A SAFCC volunteer trapped Morracca and a SAFCC foster took her in and immediately started Morracca on her road to recovery. After a medicated bath, lyme dip, and several rounds of meds and vet visits, Morracca started to improve. Her now beautiful fur coat is returning to its original glorious condition and her sweet, mellow personality has started to shine. Morracca is doing so well, she is now available for adoption. Thanks to our volunteer efforts, this has turned out to be quite a Cinderella story!
EMAIL us your success story with a picture so we can publish it in our Newsletter!
---
Free SAFCC Trap-Neuter-Return Classes Held Each Month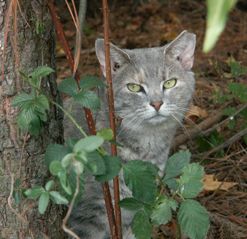 SAFCC runs free classes each month with the occasional "special" when requests are received. These classes are open to the public and are scheduled at various locations around San Antonio. After attending one free class (just one!) you will be able to borrow traps free of charge, gain access to subsidized surgeries, and even get volunteer help if necessary.
The information gained at the class is invaluable and expands your choices particularly if you do not happen to live in an area where grants for free or reduced cost surgeries are being provided at the moment. To see the complete list of classes and events visit our Calendar page. Please arrive 15 minutes early to sign in.