---
Join us for Spirit Night at all three Willie's Grill & Icehouse locations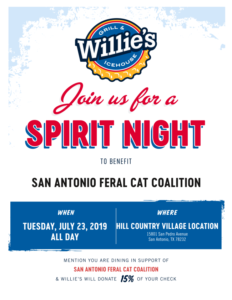 We hope to see you for lunch or dinner at Willie's on Tuesday July 23, for our Spirit Night fundraiser benefiting our Feral Food Program. This fundraiser will be at all three locations located at San Pedro, Zarzamora and Highway 151.
You must mention you are there for SAFCC and see "Spirit Night" on your check.
We get 15% of sales including adult beverages from 11AM-10PM.
To-go orders count!
Online orders will not be included.
Please share with your friends! We raised $85 at our last fundraiser at just one location and would love to triple this amount! This fundraiser benefits our Feral Food Program which provides cat food to colony caretakers who would otherwise not be able to afford to feed their colonies on their own. Can't go to Willie's but you'd still like to support this program? Please consider a food donation via our Amazon Wishlist to support our effort to help those who help community cats.
---
Trap Loan Volunteer needed in South West San Antonio

Volunteer will need to be able to store about 20 traps and keep records of borrowers.
For more information, please email here. Thank you!
---
Free spay/neuter surgery for 300 community cats in 78247-78244-78239-78233-78232-78218-78217-78216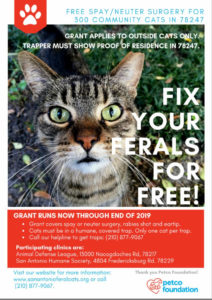 Thanks to the Petco Foundation grant, 300 community cats in these zip codes can receive free spay/neuter surgery. Cats must be brought in a covered trap to the Animal Defense League. Proof of residency is required such as a driver's license or bill. This grant began May 2019 and will continue until the end of the year or number is reached. Cats will also receive a rabies vaccination and ear-tip.
Thank you to the Petco Foundation for this grant and recognizing the lifesaving work that we do! Not in Please check our website for any other special grants or clinic specials that you can take advantage of for spay/neuter surgery. Click HERE for the information.
---
Cats of the month: Suzi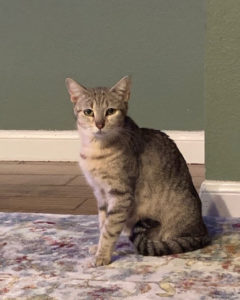 Suzi was rescued shortly before she gave birth to 6 sweet little kittens. Suzie and her Banshees are now all spayed/neutered, vaccinated, combo tested, and microchipped and ready to find their forever homes!
We expect Suzi's kittens to be adopted quickly, because they are kittens. But Suzi would also love to have a forever home! She would do well as an only cat, although she could do well with one other cat, if introduced slowly, so she feels safe.
If you are interested in Suzi, please contact her foster Leah at her email HERE.
---
Austin Highway Petco needs volunteers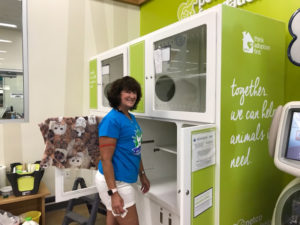 Our SAFCC Austin Highway Petco Cat Habitat is in desperate need of the following volunteer coverage:
1) The second and fourth Friday of each month.
2) The first, third and fifth Saturdays of each month.
3) Back-up volunteers who step in and cover almost any day of the week. This person usually covers when we have a regular volunteer out sick or out on vacation, etc.
This Petco cat habitat located at 1211 Austin Highway, is run only by SAFCC volunteers. The cats coming into the cubbies are approved/vetted and placed there by our fosters. There are several cubbies at each of the cat habitats that provide a great opportunity to find families for our cats and also alleviate the strain of some from our cat fosters. As a volunteer, your responsibility is to keep the habitats clean, feed and play with the cats. Volunteers dedicate 1-2 hours one day a week. Petco kindly provides the space, SAFCC provides the training and supplies, but the volunteers do all the cleaning and care of the cats while they are there. If you're interested in becoming part of the team at the Austin Highway Petco, please contact Hope Soliz at hsoliz67@gmail.com .
---
Help us continue to do this important work for our city, please DONATE!