---
Please join the event HERE and share on your Facebook page or invite friends!
If you love Scentsy products and are looking for a way to support SAFCC, join our Scentsy online Facebook fundraiser going on June 12-25. Scentsy products are simple, beautiful and safe alternatives for candles. SAFCC's Community Cat Adoption Program will receive 25% of proceeds from this fundraiser!
Rescue is a very important part of any TNR Program and our adoption program supports our efforts to get friendly cats and kittens off the street. Shop in support of SAFCC! Thank you!
---
Thank you for another successful Big Give S.A.!
The results are in and The Big Give S.A. proved again to be a successful fundraiser! On May 3-4, despite technical difficulties, 499 donations came together and generously gave to SAFCC in support of community cats. Here's the breakdown:
Most Unique Donors Small Organization- Second Place Prize $2,500
Hourly Prize from 4:00 p.m. to 5:00 p.m.- Prize $1,000
Big Give S.A. donations (May 3-4)- $13,857
Total Big Give S.A. Campaign- $17,357
We cannot begin to thank you enough for pulling through on this important day and showing your support of the work we do. As an all-volunteer organization, fundraisers like The Big Give S.A. allow us to continue to provide free TNR classes throughout the city; to provide a low subsidized fee of $20 for spay/neuter surgery; to serve as advocates for outdoor and stray cats in the community; to rescue friendly cats and kittens from the street and place them in homes or shelters; and to provide urgent medical care to numerous cats in need.
From the bottom of our hearts, thank you!
---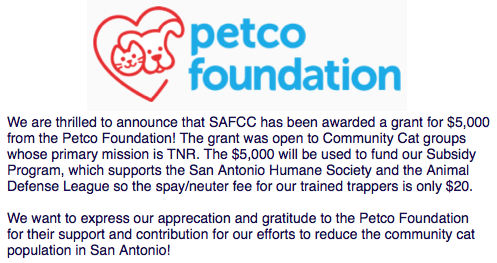 ---
Free SAFCC Trap-Neuter-Return Classes Held Each Month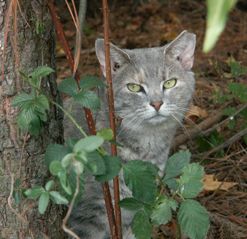 SAFCC runs free classes each month with the occasional "special" when requests are received. These classes are open to the public and are scheduled at various locations around San Antonio. After attending one free class (just one!) you will be able to borrow traps free of charge, gain access to subsidized surgeries, and even get volunteer help if necessary.
The information gained at the class is invaluable and expands your choices particularly if you do not happen to live in an area where grants for free or reduced cost surgeries are being provided at the moment. To see the complete list of classes and events visit our Calendar page. Please arrive 15 minutes early to sign in.