No feral surgeries at ADL:
Please take notice of the following clinic closure dates for the Animal Defense League:
No feral surgeries from Jan 30 – Feb 20 due to hospital construction.
View here for more information on clinic dates and times.
---
Pampered Chef Fundraiser
Buy great products and help our adoption program at the same time! It's a Pampered Chef Fundraiser!Pampered Chef products are high quality and make great gifts! This virtual fundraiser ends February 15th so click HERE to start shopping!
---
Save the date for #BigGive2019
The Big Give SA is on March 28, 2019, and is going on its sixth year! We are participating as we have all the previous years and are excited! The Big Give has become our largest fundraiser and the funds received from this event impact our work with community cats in a meaningful way.
This year our organization has moved from the small-size category to the medium-size organization category. This move means we–an all-volunteer group–now compete for funds with larger, fully-staffed and better-funded organizations. We are up for the challenge but our success in bringing in dollars depends on you, our friends, volunteers and supporters!
Please share the news with your family and friends to GIVE BIG to the San Antonio Feral Cat Coalition on March 28 on our Big Give page HERE. Stay tuned for more info!
---
Amazon Wish List
We received some more goodies from our Amazon Wishlist this week. Thanks to our unknown benefactor for this latest Amazon wishlist delivery of two litter boxes, some easy-feeders, and Gerber's baby food for transitioning young kittens from bottle to gruel.
Our adoption/foster team operates solely on donations to care for the friendly cats and kittens in our care. If you would like to make a donation from our wishlist, Donate to our Amazon wishlist here.
---
Fiesta Medal coming soon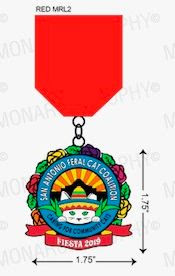 Check out this image proof and get a sneak peek of our upcoming Fiesta Medal! This will be our second medal and we are hoping to get a colorful, fun and very Fiesta-like souvenir available for all our supporters to purchase.
Our medal will be available at the Fiesta Store located at 2611 Broadway St., San Antonio, TX 78215. Their hours of operation are 10 a.m. – 6 p.m, Monday through Saturday. We will also have them available at our upcoming adoption and community events. Stay tuned to see when the medals will become available for purchase. All our fiesta medal proceeds will benefit our Community Cat Adoption program.
---
Volunteer opportunities with SAFCC
Is volunteering a New Year's resolution of yours? Or maybe you just want to help an organization whose cause is important to you? If so, then volunteer with SAFCC! Here are our most urgent volunteer needs at this time:
Helpline – Are you a stay-at-home parent, working part-time, or retired? Then you can be a Helpline volunteer and work from home! Our Helpline is dedicated to helping people with outside cat problems, questions or issues. Volunteers work half-day shifts returning calls from messages left and provide advice and resources to callers. We provide training and a cell phone if needed. This is our priority for volunteer needs this year!
Community Outreach – Advocacy is a big part of our mission. We are often invited to speak at HOA meetings or need to explain TNR to apartment managers. Tabling at public events helps spread the word about TNR and how SAFCC can help. We need people to speak at these events as a community cat advocate! Are you a people-person or do you like to talk to groups? If so, we could use you on our Community Outreach Team!
If you're interested in these or other volunteer opportunities, fill out this volunteer form HERE and we will contact you! All volunteers must attend a TNR class.
---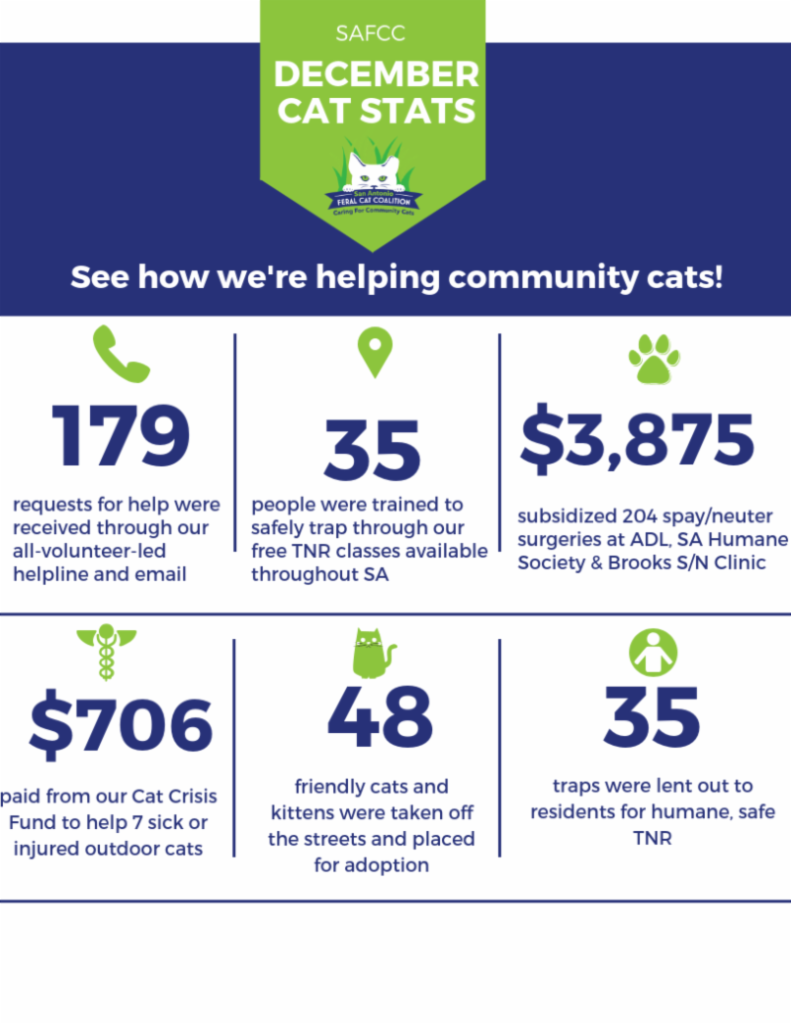 Help us continue to do this important work for our city, please DONATE!