9-13-18: We have had to close our Adoption

Program intake due to funding. Please call our Helpline for other options: 210-877-9067.
---
SAFCC is now Guidestar Platinum!
We are proud to announce we have attained Guidestar's highest level of recognition! Guidestar is the world's largest source of information on nonprofit organizations, and Guidestar Platinum is awarded only to those who are committed to transparency by sharing their progress using results-based data. Visit our Guidestar page!
---
Partnerships help CCAP get cats and kittens off the street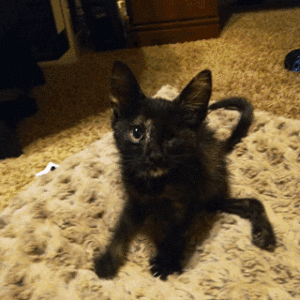 In August, SAFCC teamed up with Community Cat Crusaders in Converse to TNR four adult cats and kittens. The kittens were friendly but sick and were placed with a CCAP foster and treated for giardia. Once healthy, they were transferred to the Austin Humane Society to be adopted out to loving homes.
In mid August, SAFCC teamed up with the Lytle Animal Shelter, which had taken in a friendly female 8-week-old kitten born with several birth defects. This kitten is otherwise healthy, loving and fearless and will undergo amputation of her rear left leg, which developed an almost a 180-degree twist. She will also have surgery for a missing eye. The Lytle Animal Shelter was kind enough to sponsor her surgery and a CCAP foster is making sure she receives all the love and care she needs until she is ready for adoption.
It certainly takes a village to help the cats in our community. If you want to support the work our Community Cat Adoption Program does, you can donate HERE.
---
See what volunteer opportunities are available
TNR class: Data Entry volunteers needed. You use an Excel spreadsheet to record names and contact information of the TNR class attendees. We send you the form. Working knowledge of Excel is required and you must have your own laptop or iPad with the Excel software. You can choose when and where you'd like to volunteer depending on your schedule.
Helpline: Helpline volunteers are needed for 1/2 day shifts to return calls left on our voice mail. Training provided. Use of Excel is also needed for this volunteer job.
If you'd like to help with data entry, please email our volunteer coordinator, Courtney to get started. Visit our volunteer page on our website to find out other ways you can help!
---
SAFCC cat of the month – Gremlin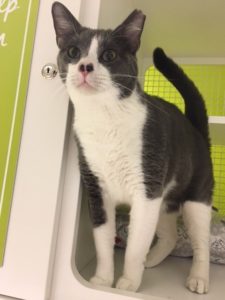 Hi, my name is Gremlin. I am a very handsome, 2 yo, Blue and White male. I had a human mom once but she had to leave town suddenly and could not take me with her so she had to give me up. I am very friendly with people and other cats. I have always been indoors and lived with two other cats and children.
I'm very laid back but still like to play, explore new things, and am overall just a big and lovable guy. I like to take naps and like lots of rubs. As you can tell eat I eat all my food and treats. My coat is very thick but short.
If you would like to meet me call/text Lorraine at 210-471-8462.
Email: crazykattlady67@gmail.com
To view all of our adoptable cats and kittens, please visit our PetFinders page HERE.
---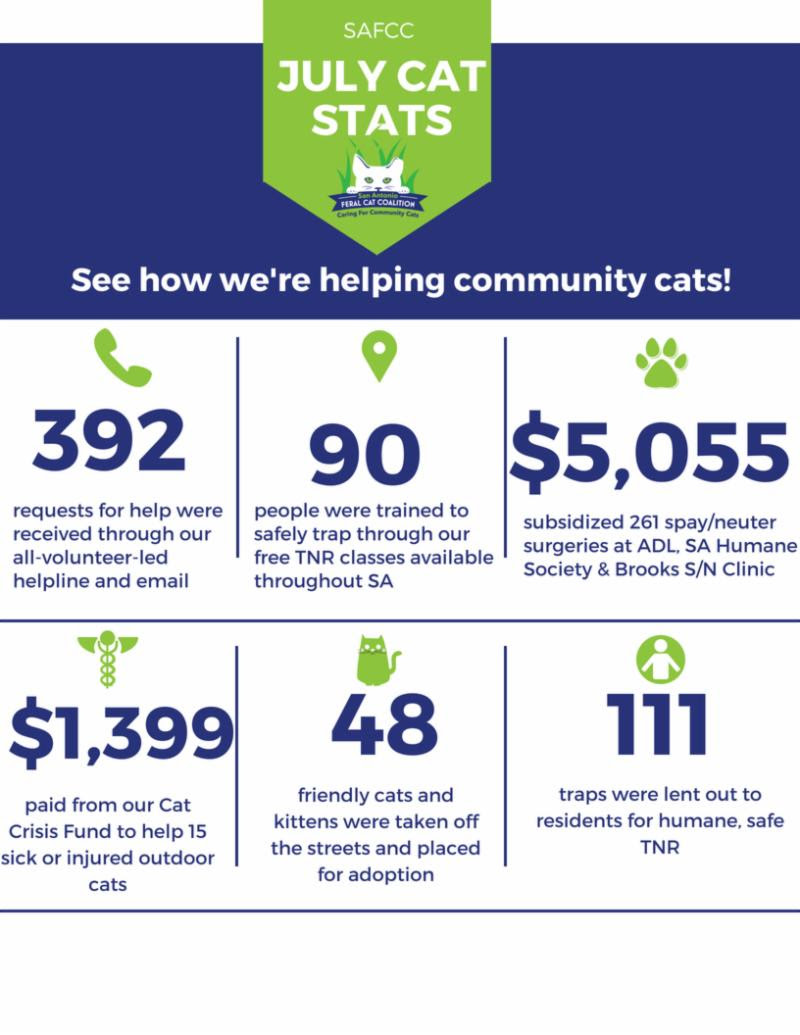 Help us continue to do this important work for our city, please DONATE!