Clinic closures
No surgeries at the following locations. Please share with anyone that you know that traps and uses these locations:
Humane Society Sept 21 (Thur) and Sept 22 (Fri)
Brooks Spay & Neuter Clinic Sept 23 (Sat)
---
San Antonio Cat Cafe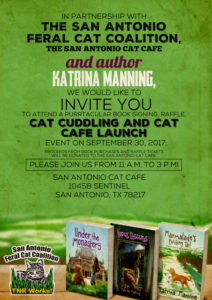 The San Antonio Feral Cat Coalition and the San Antonio Cat Cafe and author Katrina Manning, would like to invite you to attend a purrtacular book signing, raffle, cat cuddling and cat cafe launch event on September 30, 2017.
Please join us from 11am to 3pm!
San Antonio Cat Cafe
10458 Sentinel, San Antonio, TX 78217
---
Help organizations help animals displaced by Hurricane Harvey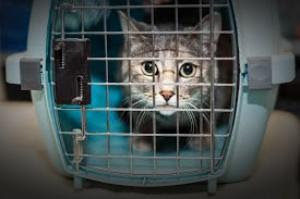 Hurricane Harvey has wreaked havoc along the Texas Coast and multiple shelters have come together to help the many animals displaced by the terrible weather. If you'd like to help them help the animals affected by Hurricane Harvey, please consider a donation to any of the rescues listed below. Please mention SAFCC when you donate, so the organizations know how you heard of their efforts. Miracle Mission K9 Rescue , Safe K9 Transports , Austin Pets Alive! , San Antonio Pets Alive! , San Antonio Humane Society and Diggy Hill Animal Rescue and Paws of D3 Thank you!
---
Cats and kittens in need in 78259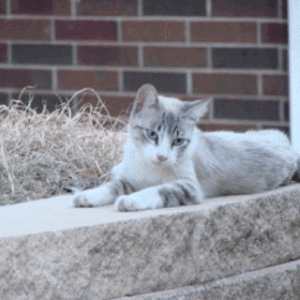 A helpline call came in on July 27 about a family of cats that were abandoned by the previous home-owner and were semi-friendly. No one was feeding them and no one wanted them there. The caller said there were 8-9 very thin kittens running into traffic. We sent an appeal to our members in 78259. Only 2 people responded – but that was enough. Tamera M. could not trap but could take in some of the kittens and Chris C. could trap.
When they went to assess the situation, they counted 13 starving cats and kittens. The cats quickly entered the traps for food. Tamera took home 5 kittens. Most of the others have been TNR'ed. Chris hated putting them back when they "craved human contact." Chris goes back every morning before work and feeds them but cannot continue to do this. He has talked to neighbors up and down the street asking them to feed the cats, explaining about TNR, to no avail. Pictured here are some of the few that are adoptable. If you are in 78259 and can help with feeding or if you can give one or more of these cats a home or a chance as a back yard pet, Chris will happily get them for you. Please email info@sanantonioferalcats.org if you can help.
Thanks so much to Tamara and Chris for their help! Great teamwork!
---
Give a SAFCC cat a forever home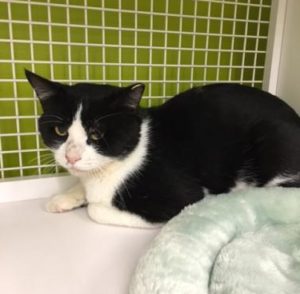 If you've been thinking of adding a furry addition to your family, please consider adopting a cat from SAFCC! When you adopt from our CCAP program, you help to get more cats and kittens off the street!
Even though our primary mission is TNR, our secondary mission is rescuing young kittens and friendly strays off the streets – as resources allow. It's difficult to leave young kittens defenseless by them selves when we trap mom. It's also difficult to return cats that clearly were someone's dumped or abandoned pet. Our adoption program is foster-based and our cats and kittens receive the best of care in preparation for their new home. Please visit our page to see all our cats available for adoption.
---
Upcoming Events
Sep 30 (Sat)- Fundraiser/Book-Signing
Time: 1 – 4 PM
Location: San Antonio Cat Cafe, 10458 Sentinel, SA TX 78217
Join us at the San Antonio Cat Cafe with Katrina Manning, the author of The Marmalade Series, inspired by her 10-year old cat, Marmalade. We will feature SAFCC adoptable cats.
Oct 16 is National Feral Cat Day!
Look for info coming soon about our NFCD Volunteer Appreciation luncheon, spay/neuter specials and start thinking of who you can nominate for our NFCD recognition awards!
---
Monthly Cat Stats
$4,215 – subsidized 194 spay/neuter surgeries at Animal Defense League, SA Humane Society & Brooks S/N Clinic
294 – requests for help received via our helpline and email
56 – people were trained to safely trap through our free TNR classes
46 – friendly cats and kittens were taken off the streets and placed for adoption
$1,393 – paid from our Cat Crisis Fund to help sick or injured outdoor cats
66 – traps were lent out to residents for TNR
Help us continue to do this important work for our city, please DONATE!
---
Free SAFCC Trap-Neuter-Return Classes Held Each Month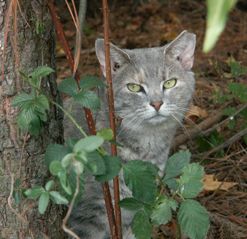 SAFCC runs free classes each month with the occasional "special" when requests are received. These classes are open to the public and are scheduled at various locations around San Antonio. After attending one free class (just one!) you will be able to borrow traps free of charge, gain access to subsidized surgeries, and even get volunteer help if necessary.
The information gained at the class is invaluable and expands your choices particularly if you do not happen to live in an area where grants for free or reduced cost surgeries are being provided at the moment. To see the complete list of classes and events visit our Calendar page. Please arrive 15 minutes early to sign in.
---