---
Donate to SAFCC May 3rd during the Big Give SA!

The Big Give SA is a 24-hour day of giving that brings donors and nonprofits together and connecting people to the causes that matter to them the most.
This May 3, 2016, the San Antonio Feral Cat Coalition is joining in again and hoping to encourage our donors and their friends and families to consider giving this day. Last year we received over $15,000 in donations toward community cats and we hope to beat that number! Your donation helps further our goal to help community cats in San Antonio.
On May 3, donate HERE.
Donate during our Power Hour to win this diamond pendant!
Americus Diamond Fine Jewelry has donated their Circle of Support Diamond Pendant and we will be giving away the piece (valued at $500) to one person who donates during our Power Hour of 4:00 pm! Donate between 4:00-4:59 pm and you could win! Thank you Americus Diamond!
---
---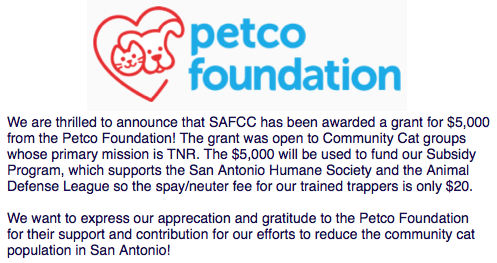 ---
500 cats will be fixed for FREE in 78216!
Grant funding provided by PetSmart Charities.
Terms of Grant:
Starts 9-1-2015 and ends 8-31-2016.
Applies to outside cats only in 78216 zip code.
Grant covers spay/neuter surgery, rabies shot and eartip. Any other service will be paid for by the trapper.  (testing/vaccinations).
Cats must be in a covered trap, one cat per trap.
SAFCC  TNR class attendance is not required to participate in this grant.
Participating Clinics
Thank you PetSmart Charities!


---
Free SAFCC Trap-Neuter-Return Classes Held Each Month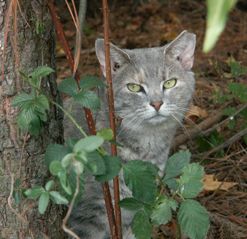 SAFCC runs free classes each month with the occasional "special" when requests are received. These classes are open to the public and are scheduled at various locations around San Antonio. After attending one free class (just one!) you will be able to borrow traps free of charge, gain access to subsidized surgeries, and even get volunteer help if necessary.
The information gained at the class is invaluable and expands your choices particularly if you do not happen to live in an area where grants for free or reduced cost surgeries are being provided at the moment. To see the complete list of classes and events visit our Calendar page. Please arrive 15 minutes early to sign in.