---

---
 This includes feral cats. Does NOT include rabies shot so trapper pays $10.
**Please tell the clinic you are using this city fund. Otherwise, the cat will go under our subsidy program and you will pay more.**
---

This is our first year participating in the Combined Federal Campaign!
SAFCC is #16456.
What is CFC?
CFC stands for the Combined Federal Campaign, the international workplace-giving campaign of the federal government.
Who can donate?
Federal workers, retirees, and government contractors.
How can people donate?
Pledge via payroll eduction at work, cash, check or credit card.
You can donate to more than one charity.
The campaign runs from September 1 to December 15.
Please ask any federal employees you know to support us. We are an all-volunteer group doing very worthwhile work for the community. Give local–give to SAFCC! Our number is 16456.
---

500 cats will be fixed for FREE in 78216!
Grant funding provided by PetSmart Charities.
Terms of Grant:
Starts 9-1-2015 and ends 8-31-2016.
Applies to outside cats only in 78216 zip code.
Grant covers spay/neuter surgery, rabies shot and eartip. Any other service will be paid for by the trapper.  (testing/vaccinations).
Cats must be in a covered trap, one cat per trap.
SAFCC  TNR class attendance is not required to participate in this grant.
Participating Clinics
Animal Defense League
San Antonio Humane Society
SpaySA
SNAP
PetShotz
Hill Country Animal League (in Boerne)
Thank you PetSmart Charities!
---
FREE SAFCC TRAP-NEUTER-RETURN CLASSES HELD EACH MONTH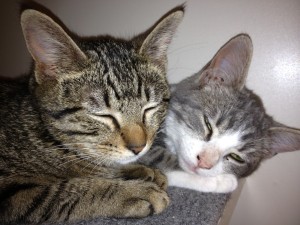 SAFCC runs free classes each month with the occasional "special" when requests are received. These classes are open to the public and are scheduled at various locations around San Antonio. Please arrive 15 minutes early to sign in. To see the complete list of classes and events visit our Calendar page.