---
Thank you to Amy Shelton McNutt Charitable Trust
We would like to thank the Amy Shelton McNutt Charitable Trust for their $2,000 contribution! They have been a long-standing supporter of SAFCC and our work with community cats. This donation will support our TNR program which subsidizes spay/neuter surgeries so trappers only pay a low $20 fee.
---
April Cat Stats
$6,035 – subsidized 226 spay/neuter surgeries at Animal Defense League, SA Humane Society & Brooks Spay/Neuter Clinic
256 – requests for help received via our helpline and email
45 – people were trained to safely trap through our free TNR classes
33 – friendly cats and kittens were taken off the streets and placed for adoption
$1,952 – paid from our Cat Crisis Fund to help 11 sick or injured outdoor cats
62- traps were lent out to residents for TNR
Help us continue to do this important work for our city, please DONATE!
---

Free SAFCC Trap-Neuter-Return Classes Held Each Month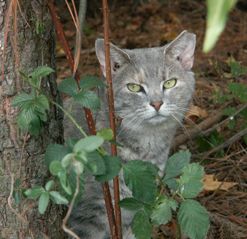 SAFCC runs free classes each month with the occasional "special" when requests are received. These classes are open to the public and are scheduled at various locations around San Antonio. After attending one free class (just one!) you will be able to borrow traps free of charge, gain access to subsidized surgeries, and even get volunteer help if necessary.
The information gained at the class is invaluable and expands your choices particularly if you do not happen to live in an area where grants for free or reduced cost surgeries are being provided at the moment. To see the complete list of classes and events visit our Calendar page. Please arrive 15 minutes early to sign in.