---
SAFCC viva fiesta 2017 medal!
It's March but we're already in Fiesta mode! Here's a sneak peek of our Viva Fiesta Medal!
Medals will be out at the end of March and will be priced at approximately $10 – $12 each. Proceeds will benefit the San Antonio Feral Cat Coalition.
Be sure to add this feline bling to your fiesta wear and to represent San Antonio Feral Cat Coalition to everyone celebrating fiesta.
---
ACS Community Input Meetings
Animal Care Services will host a series of public meetings across the community to discuss potential revisions to local animal laws as well as the shelter's Strategic Plan. San Antonio residents are invited to offer input at any of the planned meetings which will take place over the course of the next several months. Please note when your District meeting is and make plans to attend.
April 11 Hardberger Park Urban Ecology Center (District 8, 9, 10)
April 18 Miller's Pond Community Center (District 4)
May 4 Harlandale Community Center (District 3)
May 16 Melendrez Community Center (District 5)
This is a good opportunity to let our public officials know that people who care about outside cats are interested and involved.
---
January Cat Stats
$2,355 – subsidized 114 spay/neuter surgeries at Animal Defense League and SA Humane Society
175 – requests for help received via our helpline and email
42 – people were trained to safely trap through our free TNR classes
33 – friendly cats and kittens were taken off the streets and placed for adoption
$827 – paid from our Cat Crisis Fund to help sick or injured outdoor cats.
Help us continue to do this important work for our city, please DONATE!
---
Successful mass-trapping at mobile home community on Valentine's Day!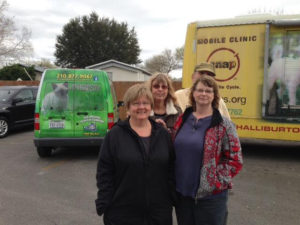 SpaySA asked SAFCC to select a location for a 30-cat TNR project for SNAP's mobile clinic. Our "fabulous 4" SAFCC trappers pictured here trapped all day on Feb 13 and delivered cats on a rainy Valentine's Day morning to the SNAP mobile clinic on site for spay/neuter. All cats did well and have been returned to their lots where trapped.
Many thanks to Cathy McCoy and SpaySA for selecting SAFCC for this project; to SNAP's wonderful vet crew who worked tirelessly all day; and to our wonderful trappers: Susan Schmahlenberger, Virginia Brown, Chris Bigelow, Donna Dickerson and Kay Keane (not pictured)! Click HERE for all pics from this project.
Thanks, everyone, for a job well done! There are 30 cats that celebrated Valentine's Day by starting a happier, healthier life – thanks to you, SNAP and SpaySA!
---
Free SAFCC Trap-Neuter-Return Classes Held Each Month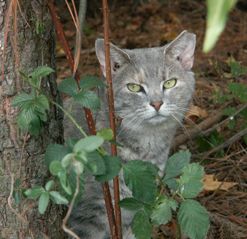 SAFCC runs free classes each month with the occasional "special" when requests are received. These classes are open to the public and are scheduled at various locations around San Antonio. After attending one free class (just one!) you will be able to borrow traps free of charge, gain access to subsidized surgeries, and even get volunteer help if necessary.
The information gained at the class is invaluable and expands your choices particularly if you do not happen to live in an area where grants for free or reduced cost surgeries are being provided at the moment. To see the complete list of classes and events visit our Calendar page. Please arrive 15 minutes early to sign in.
---