---
We are sorry but our Adoption Program is closed to intake for now.
San Antonio Humane Society – No feral surgeries
Fredericksburg location:
Wednesday, Nov 8th, Wednesday, Nov 22nd, Thursday, Nov 23rd
Brooks Clinic:
Saturday, Nov 11th, Thursday, Nov 23rd, Friday, Nov 24th
Animal Defense League – No feral surgeries
Wednesday, Nov 22nd and Friday, Nov 24th
---

Upcoming Events
Nov 11 (Sat) Paws and Pints
Location: Alamo Beer, 202 Lamar St, 78202
Time: 12 PM
You're invited! Join us at Talk About It!'s Paws & Pints adoption event at Alamo Beer! Stop by and say hi.
Nov 28 (Tue) #GivingTuesday
Join us online for this national day of giving. #GivingTuesday is celebrated on the Tuesday following Thanksgiving and after the Black Friday and Cyber Monday and is a way to give back to the charities that matter to you most. Tune in for more info!
Dec 10 (Sun) Christmas Bazaar Fundraiser
Location: San Antonio Humane Society
Time: 2:30-4:00 PM
Save the date and get your Christmas shopping started at our annual Christmas Bazaar Fundraiser. Featuring many cat-themed gifts, there is sure to be something for that cat-lover in your life! Christmas music and refreshments will get you into the holiday spirit!
We are always in need of event volunteers. If you are interested and have knowledge of the work we do, please email us at info@sanantonioferalcats.org.
---
Help these babies stretch their legs–be a temporary foster!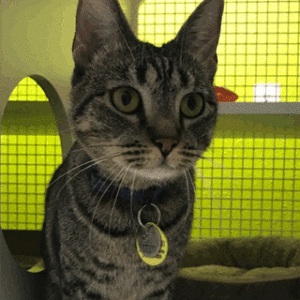 This is an urgent plea for temporary fosters so our Petco cubicle cats can get a much-needed break. We are asking for fosters to keep our cubicle cats for 2-3 weeks to let them stretch their legs and run around. SAFCC will provide food and litter, you provide fun and love.
Pictured here are Heather (brown tabby) and Deacon (white and orange). Heather is a very sweet and gentle young female. She is currently located at our Petco on San Pedro and 410.
Deacon was found in the parking lot of his foster mom's church. He is cuddly sweet 8-month old boy and loves people and cuddling on your lap. He is currently located at our Stone Oak Petco habitat.These two cats are only a few of the cats we have that could use a break. If you can help these confined cats and kittens who are going stir-crazy, please contact Lorraine at this EMAIL.
---
San Antonio Area Foundation awards SAFCC Trapper Team grant

The Animal Services Community Advisory Committee and the Board of Directors of the San Antonio Area Foundation, awarded a $32,000 grant to the San Antonio Feral Cat Coalition for our Trapper Team. We are appreciative of this generosity that demonstrates the Area Foundation's belief in the importance of the work we do.
Our Trapper Team program supports our efforts to do TNR on cats that are fed by the elderly or disabled, and at businesses or apartment complexes where there is no one else to trap.
---


Another successful SAFCC Volunteer Luncheon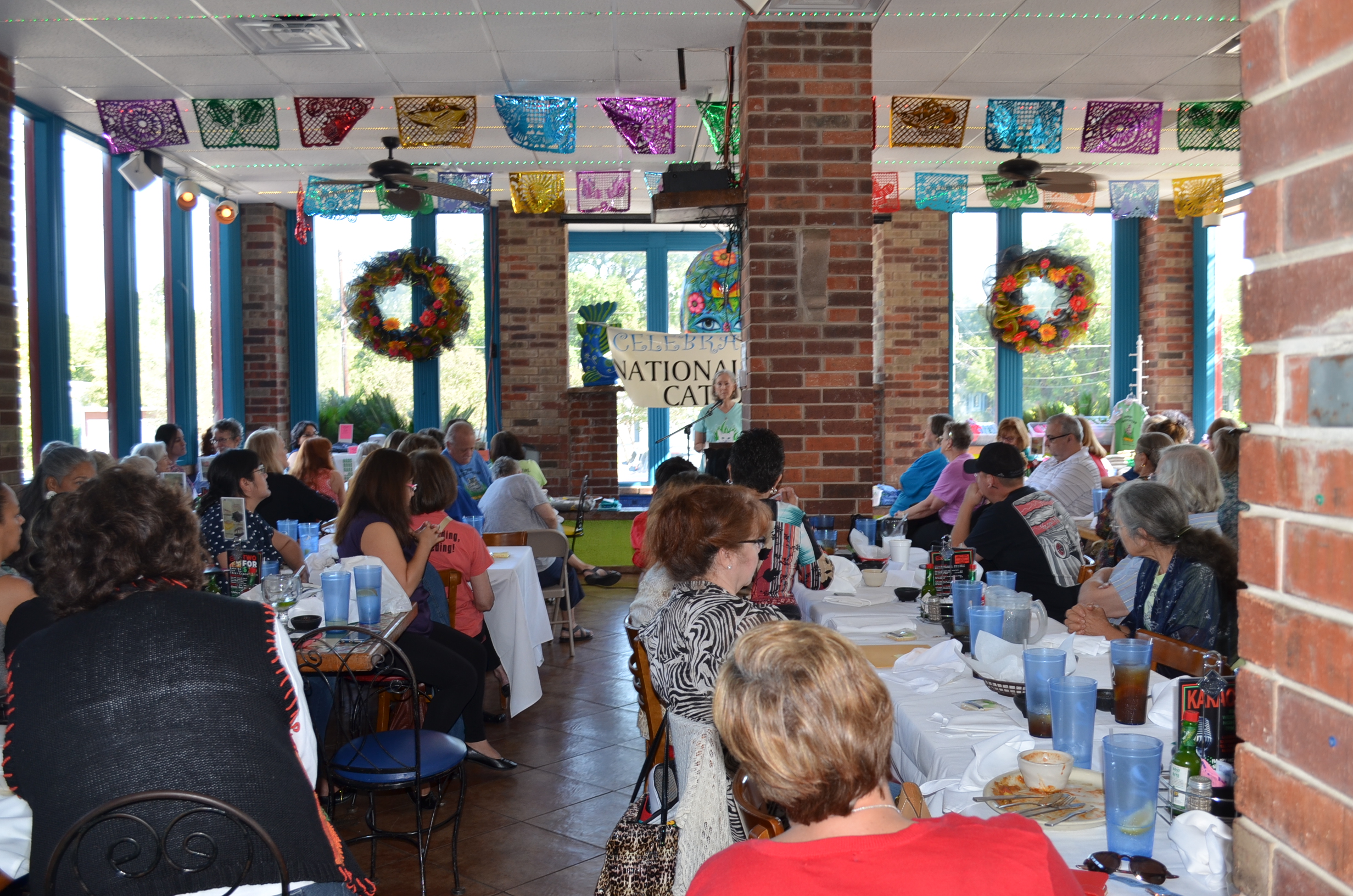 On October 15, SAFCC volunteers, trappers, board members and supporters came together to observe Global Cat Day and to celebrate our SAFCC volunteers at Tomatillos on Broadway. The event was a great success and–based on the feedback–our best volunteer luncheon yet.
Express News columnist and guest speaker, Cathy Rosenthal spoke about compassion fatigue–a topic which resonated with many of those in attendance. Artist Ryn Weisz raffled off an opportunity for participants to win a personal pet portrait painted by the artist. Raffle proceeds went to SAFCC's Cat Crisis Fund, which helps sick or injured community cats get the medical care they need. Last but not least, the annual Proctor Award, which goes to one dedicated individual who goes above and beyond to help community cats, was awarded. Congratulations to Virginia Brown, this year's recipient!
Thank you to those in attendance for making this event a success. And thank you to our volunteers, without whom we could not do all the work that we do!
See our photos of the luncheon here!
---

Thanks to ACS and SA Humane Society for food donations
Heartfelt thanks go out to Fumiko, with the Community Cat Program at ACS, for donating over 40 bags of Hill Country Fare cat food to SAFCC. This generous food donation will go a long way to supplement our Colony Caretaker Food Program. Thanks again, ACS!
We also want to thank Erin, Operations Director at the San Antonio Humane Society for offering some of their surplus cat food to SAFCC and our food program.
Our Colony Caretaker Food Program is entirely funded by donations. If you would like to donate toward this program to help volunteer caretakers who manage/feed large cat colonies, please make a donation HERE and select the Colony Caretaker Food Program.
---

September Cat Stats
$4,060 – subsidized 202 spay/neuter surgeries at Animal Defense League, SA Humane Society & Brooks S/N Clinic
271 – requests for help received via our helpline and email
65 – people were trained to safely trap through our free TNR classes
32 – friendly cats and kittens were taken off the streets and placed for adoption
$543 – paid from our Cat Crisis Fund to help sick or injured outdoor cats
82 – traps were lent out to residents for TNR
Help us continue to do this important work for our city, please DONATE!
---

Free SAFCC Trap-Neuter-Return Classes Held Each Month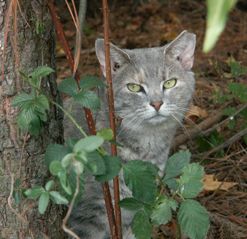 SAFCC runs free classes each month with the occasional "special" when requests are received. These classes are open to the public and are scheduled at various locations around San Antonio. After attending one free class (just one!) you will be able to borrow traps free of charge, gain access to subsidized surgeries, and even get volunteer help if necessary.
The information gained at the class is invaluable and expands your choices particularly if you do not happen to live in an area where grants for free or reduced cost surgeries are being provided at the moment. To see the complete list of classes and events visit our Calendar page. Please arrive 15 minutes early to sign in.
---