---
Get the SAFCC 2018 Fiesta medal
Saturday, April 14th at our office
11411 Rendezvous from 10 – 12pm.
More places to buy medals coming!
---
Need a trap?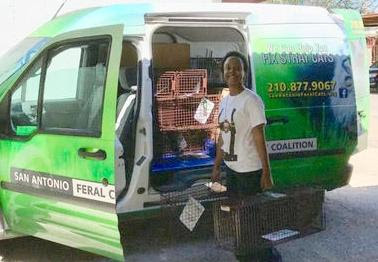 We just received a new order of traps! If you are the trapper in your neighborhood, it's nice to have one on hand. We are a TruCatch distributor and have regular, Big Boys, and dividers for sale. You must have attended our training session before we can sell you a trap.
Regular – $70 / Big Boys – $85 / Dividers – $20
---
Events
Earth Day 2018 – April 21, Saturday 10am – 3pm
Woodlawn Lake Park, 1103 Cincinnati Ave. 78201. We are a regular participant at Earth Day. Stop by, say Hi, and get an "earth-friendly" cat toy for free!
SAFCC Volunteer Fair – April 29, Sunday 2 – 4 pm
Do you have a heart for cats and would like to volunteer with an awesome organization? Join us at our Volunteer Fair. April 29, Sunday 2 – 4 pm. San Antonio Humane Society, 4804 Fredricksburg Rd.
Meet and talk with others who help our community cats lead better lives and see how you can help. As an all-volunteer organization, we depend on you – and the cats do too!
Stop by our office on Second Saturdays – April 14. 2018
If you want to buy some SAFCC merchandise, drop off a donation or just want to say hi, stop by our office on the Second Saturday of every month, from 10am -12pm. Parking available in front of building.
---
February Cat Stats
$2,775 – subsidized 103 spay/neuter surgeries at Animal Defense League, SA Humane Society & Brooks Spay/Neuter Clinic
229 – requests for help received via our helpline and email
57- people were trained to safely trap through our free TNR classes
31 – friendly cats and kittens were taken off the streets and placed for adoption
$1,032 – paid from our Cat Crisis Fund to help 7 sick or injured outdoor cats
66- traps were lent out to residents for TNR
Help us continue to do this important work for our city, please DONATE!
---

Free SAFCC Trap-Neuter-Return Classes Held Each Month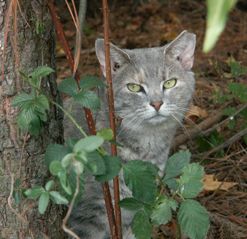 SAFCC runs free classes each month with the occasional "special" when requests are received. These classes are open to the public and are scheduled at various locations around San Antonio. After attending one free class (just one!) you will be able to borrow traps free of charge, gain access to subsidized surgeries, and even get volunteer help if necessary.
The information gained at the class is invaluable and expands your choices particularly if you do not happen to live in an area where grants for free or reduced cost surgeries are being provided at the moment. To see the complete list of classes and events visit our Calendar page. Please arrive 15 minutes early to sign in.