---
Support us on May 14 on Spirit Night at Willie's!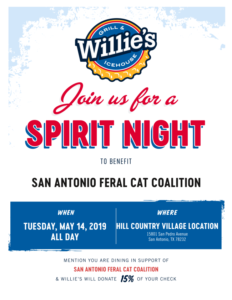 On May 14, stop by Willie's Grill & Icehouse at their Hill Country Village location (15801 San Pedro), mention you are dining in support of the San Antonio Feral Cat Coalition and Willie's will donate 15% of your check! Please check your receipt to make sure you were counted for Spirit Night!
Please share this flyer with your family, friends and coworkers! This fundraiser will benefit our Feral Food Program, that provides food to colony caretakers in need.
Carry out counts too so take home Willie's for dinner! Thank you!
---
Cat of the month: Wink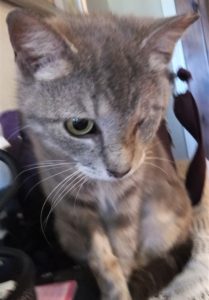 Meet our SAFCC cat of the month, Wink! Wink is a very sweet and affectionate girl. She was dumped at an elderly man's cat colony pregnant and with an eye injury. Even though she had a severely infected eye and must have been in great pain, this little girl was very sweet. With the help of ACS who treated Wink's eye for free, a Community Cat Adoption Program volunteer fostered Wink and she is now healthy and ready for adoption!
If you want to meet Wink, she is currently in our adoption center at PetSmart on 1604 and Culebra. For more information you can also email her foster mom Leah at: ccap-02@sanantonioferalcats.org.
---
Petco volunteers needed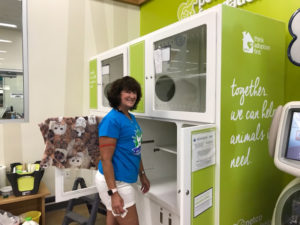 Our Community Cat Adoption Program needs volunteer cleaners at our newest Petco location on 11398 Bandera Road. Volunteers will water and feed, scoop litter boxes, do light cleaning, and play with cats and kittens. This volunteer opportunity is a one-hour commitment once a week. If you're interested, please contact: Susan at (210) 803-9334 or Kim (210) 275-4736 or fill out our volunteer application.
---
PetSmart welcomes SAFCC as new adoption partner at grand opening!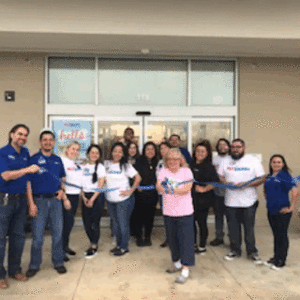 This month SAFCC helped celebrate the Grand Opening of the new PetSmart on 1604 just south of Potranco. Even though the weather was bad, it was a madhouse as over 300 people lined up in the rain, waiting over 45 minutes before the doors opened! Our Community Cat Adoption Program Coordinator, Leah Belanger, was invited to cut the ribbon on the store's opening day! SAFCC had five successful adoptions that day! Stop by and visit and please thank PetSmart for giving us another venue to find homes for the friendly cats and kittens in our care.
---
Help us continue to do this important work for our city, please DONATE!