Welcome!
City of Converse To Implement Trap, Neuter, Return
The City of Converse recently voted to implement Trap-Neuter-Return (TNR) in their city.  The San Antonio Feral Cat Coalition has arrange a FREE TNR class to be held in the City Conference Room on Sunday, February 15, 2015 from 2 p.m.-4 p.m. Although the venue for this seminar is at the Converse City offices, it is not restricted to Converse residents. Anyone and everyone is welcome to attend to learn the logic of implementing this tried and tested, humane, effective system of controlling outdoor cat population numbers. Bring a friend! The more the merrier!  For full details, please read the flyer:
---
HOWLIDAY AT THE RIM EVENT!
Sparkle and shine are always a part of the holiday season but this year, the holiday spirit shined even brighter for three lucky felines who were adopted at the Howliday At The Rim Event! The event featured educational activities, playful visits with feline friends, and a fabulous red carpet feline fashion show. Thank you to all the wonderful volunteers who made this event so very special. Below are a few pictures:
We are so pleased with our new tent. Thanks to Sandy Smith who took charge in setting it up for the first time! Our volunteers Elsie Sipos show our Community Cat Christmas Corn (left) & Lorraine Cantu sports one of our bright pink long sleeve tee. The sale of these, and other items, help support the efforts of the San Antonio Cat Coalition.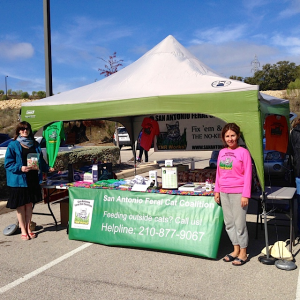 Chris helped us set up the cattery display, and we thank him help with the tent!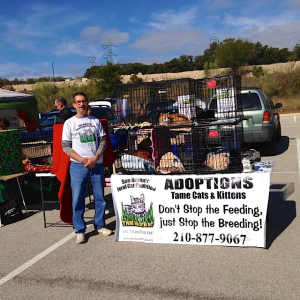 Our holiday fasion show featured
Bonnie
seen here
walking the red carpet with handler Toni Verbeski. Great job both of you!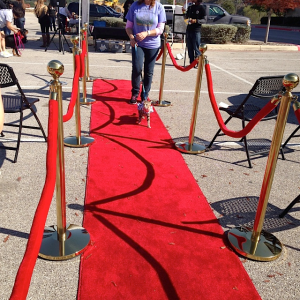 NEW BRAUNFELS SET TO START TNR!!!!! FREE SEMINARS SCHEDULED AT THE NEW BRAUNFELS PUBLIC LIBRARY!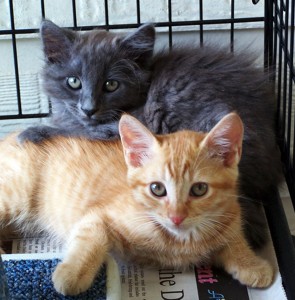 New Braunfels City Council Trap, Neuter, Return (TNR) ordinance was successfully passed in August 2014.  Free seminars are scheduled at the New Braunfels Public Library (700 Common Street, New Braunfels 78130).
Sunday, January 18, 2015 (2 – 4PM)
Sunday, March 15, 2015 (2 – 4PM)
Sunday, May 17, 2015 (2 – 4PM).
Join us to find out how TNR works and the resources available to residents. Meet others interested in humanely controlling the cat population numbers, cheaply and effectively. The Trap, Neuter, Return program is sanctioned and endorsed by the New Braunfels City Council so encourage your neighbors to come with you. Link to the flyer: New_Braunfels_TNR_classes_(Jan-Mar-May_2015)  Directions to the New Braunfels TNR class here
---
FREE SAFCC TRAP-NEUTER-RETURN CLASSES HELD EACH MONTH
SAFCC runs four free classes per month with the occasional "special" when requests are received. These classes are open to the public and are scheduled at various locations around San Antonio. Please arrive 15 minutes early to sign in. To see the complete list of classes and events visit our Calendar page.