Holiday Clinic Closures
Please take notice of the following clinic closure dates:
Brooks Spay & Neuter Clinic- No feral surgeries on: Dec 19th, 25th & 26th.
San Antonio Humane Society- Dec 24th, 25th, 26th & 31st.
Animal Defense League- Holiday closures for feral surgeries: Nov 19 – 25 and Dec 20 – Jan 3.
ACS Community Cat Program – No feral surgeries on Dec 20th, 27th & 28th.
View here for more information on clinic dates and times.
---
Join us with your pet for Petco Foundation's Photos with Santa
Join us for Photos with Santa at the below Petco stores. The Petco Foundation has selected SAFCC as its partner for this event which means we will receive a minimum $200 donation, and receive all additional revenue created by this fundraiser event!
This means more visitors = more money earned so please be sure to stop by with your pet and share this event with your friends and family.
December 15. 1-4 PM: Petco – Fiesta Trails – 12651 Vance Jackson Rd. #119, SA TX 78230
December 15 & 16. 1-4 PM: Petco – Austin Hwy – 1211 Austin Hwy, San Antonio, TX 78209
December 16. 1-4 PM: Petco – Stone Oak – 23014 US-281 N, San Antonio, TX 78258
---
Annual SAFCC Christmas Bazaar
Join us on Saturday, December 15 for our annual Christmas Bazaar. Meet and mingle with others and partake in some holiday refreshments while you shop! We will have many cat-themed items for purchase for the cat-lover on your Holiday list. All proceeds will benefit SAFCC's Cat Crisis Fund.
Location: San Antonio Humane Society (4804 Fredricksburg Rd. 78229) Time: 2:00 – 4:00 PM
---
Help save lives! Foster for SAFCC!
We receive more calls about kittens than any other group in town, yet our Community Cat Adoption Program is one of the smallest. Fostering saves lives and is one of the most rewarding things you can do.
Apply today to find out about fostering. We provide food, toys, and medical care. You provide love! If you want to apply, click HERE. If you would like more information about what fostering entails, please contact our Foster/Adoption lead, Leah at her email.
---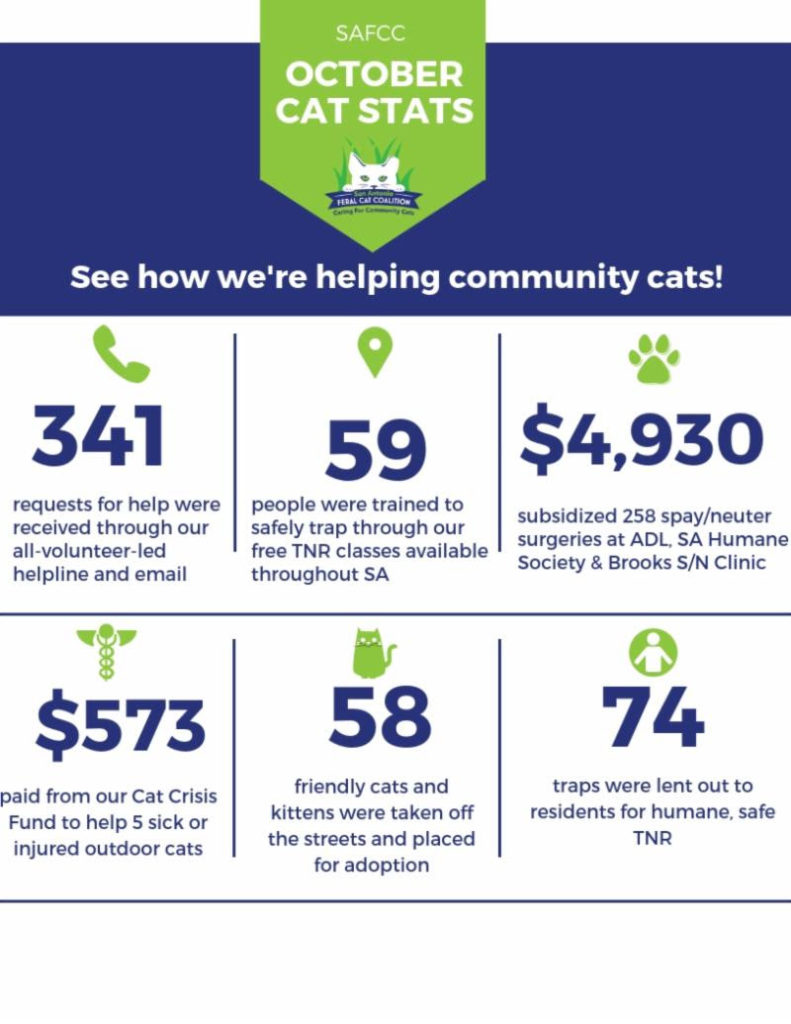 Help us continue to do this important work for our city, please DONATE!