---
SAFCC viva fiesta 2017 medal!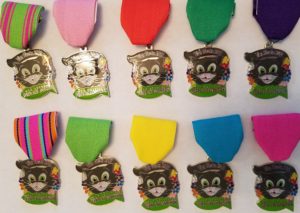 It's April and we're in Fiesta mode! Here's a sneak peek of our Viva Fiesta Medal!
Medals will be out soon and will be priced at approximately $10 – $12 each. Proceeds will benefit the San Antonio Feral Cat Coalition.
Be sure to add this feline bling to your fiesta wear and to represent San Antonio Feral Cat Coalition to everyone celebrating fiesta.
---
Save the date for Big Give 2017!
The Big Give SA is a 24-hour day of giving that brings donors and nonprofits together and connects people to the causes that matter to them the most. If our work for community cats matters to you we encourage you to donate May 4, 2017. And-because we win more prize money when we have the most unique, one-time donors-tell your friends and family to donate too! Even just the minimum of $10 helps us win!
We are so excited for the Big Give this year and hope you are too! Remember, your donation helps further our goal to help community cats in San Antonio. Visit our Big Give profile HERE.
---
Upcoming Events
April 22 – Earth Day 9am – 2pm at Woodlawn Park
Come out and enjoy beautiful Woodlawn Lake Park, a perfect setting for Earth Day! SAFCC will have a booth giving away catnip seeds – easy to grow and did you know they are an excellent mosquito repellant too?
Petco Adoption Events
Petco-Fiesta Trails // Saturday April 8 and 22 // 12 – 4 PM
12651 Vance Jackson Rd. #119, 78230
Petco-La Plaza del Norte // Saturday April 8 and 22 // 12 – 4 PM
125 NW Loop Loop 410, #350, 78216
Stop by and visit with our volunteers, fosters and adoptable cats and kittens.
---
ACS Community Input Meetings
Animal Care Services will host a series of public meetings across the community to discuss potential revisions to local animal laws as well as the shelter's Strategic Plan. San Antonio residents are invited to offer input at any of the planned meetings which will take place over the course of the next several months. Please note when your District meeting is and make plans to attend.
April 11 Hardberger Park Urban Ecology Center (District 8, 9, 10)
April 18 Miller's Pond Community Center (District 4)
May 4 Harlandale Community Center (District 3)
May 16 Melendrez Community Center (District 5)
This is a good opportunity to let our public officials know that people who care about outside cats are interested and involved.
---
Cat stranded for two weeks rescued by SAFCC volunteer!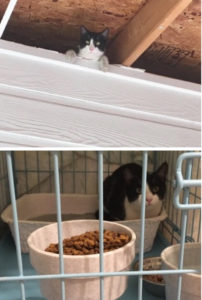 On Lesa's first day as a SAFCC Helpline volunteer-in-training, she received a call concerning a cat stranded in the rafters of a church for 2 weeks! Lesa was in Houston at the time as her return drive to SA was delayed by a back injury. She got in her car to make the drive home with a large dose of Tylenol & Aleve on board. She drove straight to the church and was there until after midnight trying to get the cat down.
The next day she went back out and stayed there all day until around 7:45 pm. The cat finally could not resist Petsmart canned salmon (Lesa's secret "no-fail" bait. She says cats love it!). She had much help through-out the day by church maintenance and neighbors, but it was Lesa's tenacity that won the day! Church Kitty is now recovering from his ordeal for a couple days before he makes his visit to the vet to get neutered and be returned a "new man," as Lesa says!
Thank you for going above and beyond, Lesa! This is truly a remarkable rescue!
---
February Cat Stats
$4,420 – subsidized 208 spay/neuter surgeries at Animal Defense League and SA Humane Society
214 – requests for help received via our helpline and email
57 – people were trained to safely trap through our free TNR classes
36 – friendly cats and kittens were taken off the streets and placed for adoption
$740 – paid from our Cat Crisis Fund to help sick or injured outdoor cats.
Help us continue to do this important work for our city, please DONATE!
---
Free SAFCC Trap-Neuter-Return Classes Held Each Month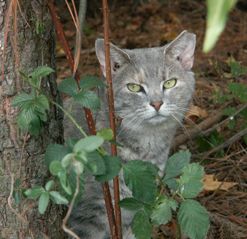 SAFCC runs free classes each month with the occasional "special" when requests are received. These classes are open to the public and are scheduled at various locations around San Antonio. After attending one free class (just one!) you will be able to borrow traps free of charge, gain access to subsidized surgeries, and even get volunteer help if necessary.
The information gained at the class is invaluable and expands your choices particularly if you do not happen to live in an area where grants for free or reduced cost surgeries are being provided at the moment. To see the complete list of classes and events visit our Calendar page. Please arrive 15 minutes early to sign in.
---