Our Community Cat Adoption Program is in crisis mode!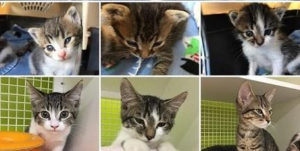 It's summer and the 'HEAT IS ON' literally and figuratively. The San Antonio Feral Cat Coalition's Community Cat Adoption Program is overflowing with kittens. We have had to close our intake and go into fundraising mode to have enough money for their vetting/food/unplanned illness etc. This means we cannot save anymore cats and kittens until we raise funds to take care of the ones we have. Please consider donating now to help! Click here to visit our fundraising page. Thank you!
Urgent – Temporary Fosters Needed!
Do you have two or three weeks to give a cat (or two) a much needed break from cubicle life? Our respite foster is on vacation and all of our regular fosters are maxed out. If you might be able to help, please contact Lorraine or Barbara below. We will provide food and litter. This need is urgent!
Can't take in a cat but still want to help? Please consider donating to our
Amazon Wishlist
. Our CCAP program is funded completely by donations so we appreciate any donation. Thank you!
---
Success Tails!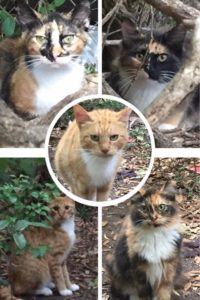 Elizabeth took our TNR class and has been diligently trapping and fixing her colony for years, although the female having all the kittens had thus far eluded her. Well, good news! Elizabeth finally caught her Fertile Myrtle! Here's the trapping success story as well as pics of Fertile Myrtle and her adult children who complete her little colony: Sara Lee, Little Debbie, Betty Crocker, and Duncan Hines.
"I caught my Fertile Myrtle (my Moby Dick), who I've been trying to catch for nearly 4 years now, and got her fixed….Now Myrtle's colony is 100% neutered, her and all her offspring. Over the past 4 years I've tried regular trapping at all hours of the day, big boy traps, drop traps, nets, all kinds of foods, anything I could think of with no success. When she sees or hears a trap, she heads for the hills. What finally did it was that I left 2 of my traps where I feed (which is risky, but they were well hidden and I was desperate) and held them open with a bungie cords. The cats HAD to go in to eat. I think Myrtle boycotted for a few days but eventually got too hungry. I went extremely early two Thursdays ago and put in the food and removed the bungie cords. She was pregnant and very hungry and finally gave in.
I cried tears of joy when I saw her. She has provided me with at least 20 kittens to neuter over the past 4 years. I've caught every last one except for her, until two weeks ago. Victory! She glares at me every time she sees me. I remind her that she won't hate me forever."
Great job, Elizabeth!
---
Help us during this kitten season and shop for a cause
Though TNR is our mission, the San Antonio Feral Cat Coalition works to get as many adoptable cats and kittens off the streets. It's the height of kitten season and our funds reserved for vetting/food/unplanned illness, etc for the current 151 cats and kittens in our adoption program is only at 35 percent of what we need!
Please consider supporting our Macy's Charity Challenge by donating just $5 or more for an exclusive Macy's saving pass and shop for a cause–our cause! Click HERE to donate and your savings pass will be mailed to you, it's that easy! The Charity Challenge ends on August 9.
Happy shopping and thank you for your support!
---
Monthly Cat Stats:
$3,835: subsidized 175 spay/neuter surgeries at Animal Defense League, SA Humane Society & Brooks S/N Clinic
315: requests for help received via our helpline and email
38: people were trained to safely trap through our free TNR classes
21: friendly cats and kittens were taken off the streets and placed for adoption
$316: paid from our Cat Crisis Fund to help sick or injured outdoor cats.
Help us continue to do this important work for our city, please DONATE!
---
Free SAFCC Trap-Neuter-Return Classes Held Each Month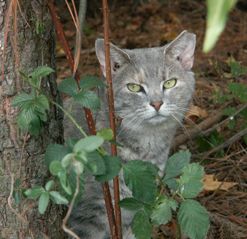 SAFCC runs free classes each month with the occasional "special" when requests are received. These classes are open to the public and are scheduled at various locations around San Antonio. After attending one free class (just one!) you will be able to borrow traps free of charge, gain access to subsidized surgeries, and even get volunteer help if necessary.
The information gained at the class is invaluable and expands your choices particularly if you do not happen to live in an area where grants for free or reduced cost surgeries are being provided at the moment. To see the complete list of classes and events visit our Calendar page. Please arrive 15 minutes early to sign in.
---