---
Thank you for joining us for Willie's Grill & Icehouse Spirit Night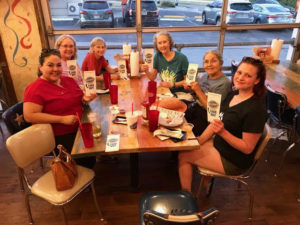 Thank you so much to those that stopped by all three Willie's Grill and Icehouse locations for our Spirit Night fundraiser this month! Pictured here are some of our helpline volunteers, enjoying a well-deserved fun dinner!
This month, we more than doubled our fundraising efforts from our last Willie's fundraiser! This fundraiser benefited our Feral Food Program which provides cat food to colony caretakers who would otherwise not be able to afford to feed their colonies on their own. Stay tuned for details on our next Spirit Night at Willie's. If you weren't able to visit Willie's during Spirit Night but you'd still like to support this program, please consider a food donation via our Amazon Wishlist.
---
Trap Loan Volunteer needed in SW Area

Have you thought about volunteering?
This is a great opportunity to help those in your local area who are doing TNR!
Requirements:
– Have a car big enough to hold several traps.
– Have a garage or other storage area that can store up to 20 of our regular traps.
– Be able to submit monthly reports with trap loan data.
If you'd like to know more, please contact Marte at 210-370-7370.
---
Cats of the month: Meredith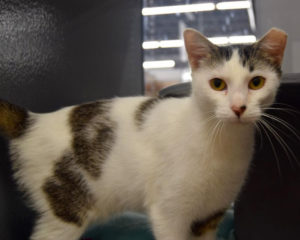 This sweet cat is Meredith, a young adult female who has been in foster care since early May. Meredith was brought into foster care by a trapper, along with a litter of younger siblings. Her siblings have all been adopted which leaves only Meredith to find her forever home.
Meredith is a very pretty and mostly white cat with some colored patches and gorgeous orange eyes. She loves to play and be petted and is very friendly. With the proper introduction, she should get along with other cats. She does not do well with dogs. If you are interested in meeting Meredith or want more information, please contact her foster mom Leah at her email HERE.
---
Donate through our Amazon Wishlists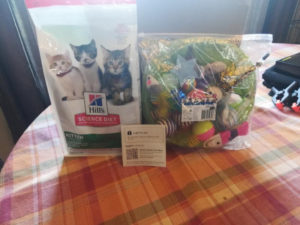 Many thanks to Rita L for her recent donation of cat food from our Community Cat Adoption Program Amazon Wishlist. This bag of kitten food and jumbo pack of cat toys will certainly be put to good use by our fosters and the cats in their care!
If you would like to support our Community Cat Adoption Program's efforts to get homeless cats off the streets, please donate through their Amazon Wishlist HERE.
If you would like to provide a food donation to a colony caretaker in our Feral Food Program, please donate to that program's Amazon Wishlist HERE.
---
Thank you for giving to our CCAP fundraiser
Thanks to you, our wonderful supporters, our Community Cat Adoption Program was able to raise $4,030 from their recent fundraiser to support the surgery and medical needs for the foster cats in our care. Stay tuned for updates on some of the cats we were able to help, thanks to your generosity!
---
Austin Highway Petco needs volunteers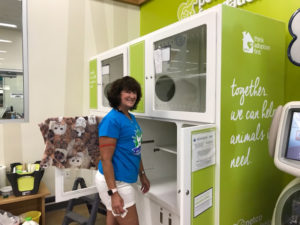 Our SAFCC Austin Highway Petco Cat Habitat is in desperate need of the following volunteer coverage:
1) The second and fourth Friday of each month.
2) The first, third and fifth Saturdays of each month.
3) Back-up volunteers who step in and cover almost any day of the week. This person usually covers when we have a regular volunteer out sick or out on vacation, etc.
This Petco cat habitat located at 1211 Austin Highway, is run only by SAFCC volunteers. The cats coming into the cubbies are approved/vetted and placed there by our fosters. There are several cubbies at each of the cat habitats that provide a great opportunity to find families for our cats and also alleviate the strain of some from our cat fosters. As a volunteer, your responsibility is to keep the habitats clean, feed and play with the cats. Volunteers dedicate 1-2 hours one day a week. Petco kindly provides the space, SAFCC provides the training and supplies, but the volunteers do all the cleaning and care of the cats while they are there. If you're interested in becoming part of the team at the Austin Highway Petco, please contact Hope Soliz at hsoliz67@gmail.com.
---
Free spay/neuter surgery for 300 community cats in 78247-78244-78239-78233-78232-78218-78217-78216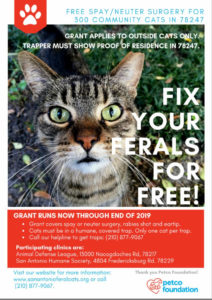 Thanks to the Petco Foundation grant, 300 community cats in these zip codes can receive free spay/neuter surgery. Cats must be brought in a covered trap to the Animal Defense League. Proof of residency is required such as a driver's license or bill. This grant began May 2019 and will continue until the end of the year or number is reached. Cats will also receive a rabies vaccination and ear-tip.
Thank you to the Petco Foundation for this grant and recognizing the lifesaving work that we do! Not in Please check our website for any other special grants or clinic specials that you can take advantage of for spay/neuter surgery. Click HERE for the information.
---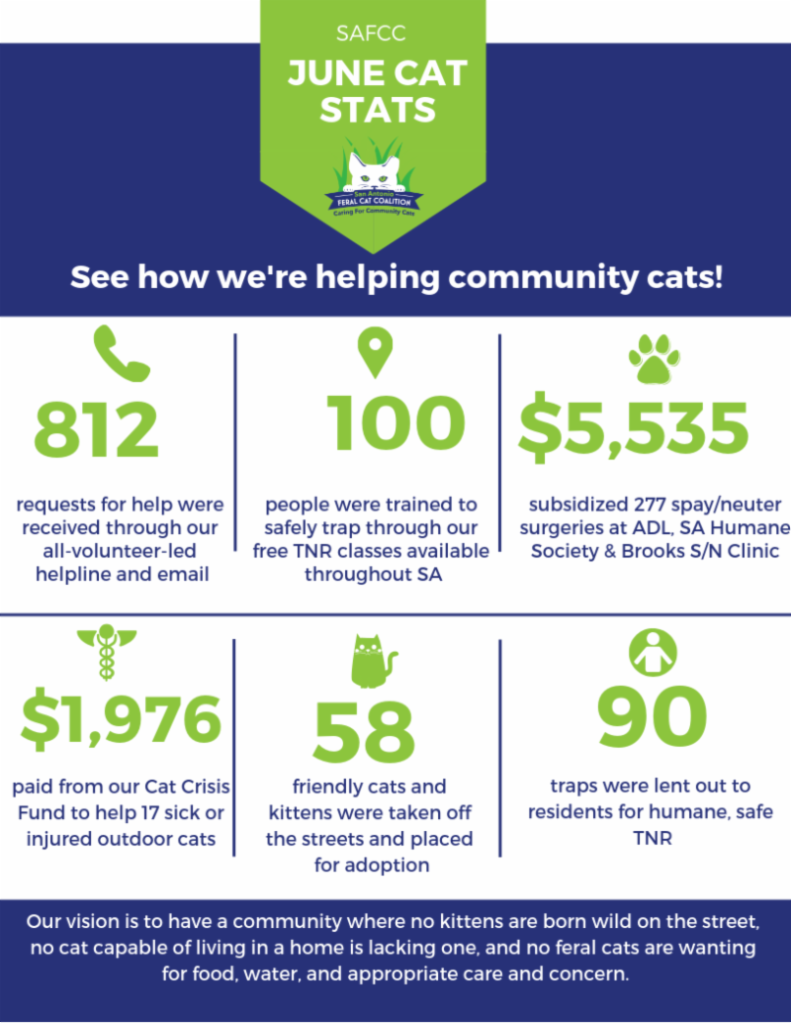 Help us continue to do this important work for our city, please DONATE!