9-13-18: We have had to close our Adoption

Program intake due to funding. Please call our Helpline for other options: 210-877-9067.
---
Global Cat Day
In honor of Global Cat Day, here is an article about our work in the San Antonio Express News:Feral Cat Coalition doing amazing work with few resources and also a photo gallery of our event that was held last weekend.
---
Global Cat Day spay/neuter specials
In honor of Global Cat Day, our partner clinics are offering S/N Specials! San Antonio Humane Society and Brooks Spay and Neuter Clinic are offering $15 trapper fees the entire month of October! The Animal Defense League is offering a $15 trapper fee on Wednesday, Oct 17th, with a capacity of up to 50 cats! This is a great opportunity to get cats done in cooler weather and save $5!
---
Help needed at our Petco stores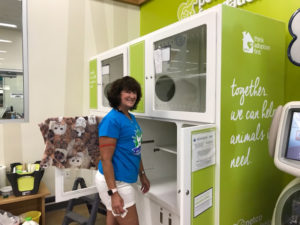 We are still needing help at our Petco stores! Please ask your friends and neighbors who might have 1-2 hours a week to make a difference. If we lose a store, we will never get it back and will then lose out on many adoptions.
Shifts are 1-2 hours one day a week or could be every other week. You must be 21 years old, be able to do light lifting and use a step ladder. If you would like to know more, please contact our store managers below:
Petco-1211 Austin Highway #101, SA TX 78209-Hope Soliz 210-601-9830 hsoliz67@gmail.com
Petco-23014 US-281 #107, SA TX 78258
Petco-12651 Vance Jackson Rd. #119 SA TX 78230-Lorraine Cantu 210-471-8462 crazykattlady67@gmail.com
Petco-125 NW Loop 410 #350 SA TX 78216 Miriam Jimenez 210-374-2129 fosteringbymixie@gmail.com
---
SAFCC storm drain rescue!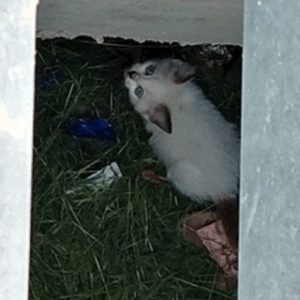 SAFCC received a helpline call from a woman who was desperate to find help for a poor 6 week-old kitten who fell 6 feet down into a storm drain. The caller stayed by the storm drain all night, leaving only when necessary. Other individuals, even the fire department, tried to rescue the kitten – to no avail.
After hearing about the failed attempts, SAFCC volunteer Courtney decided to give it a try. After a little over an hour, the kitten was trapped in a new SAFCC kitten trap and pulled out! Rebecca, the caller and Courtney are taking on the responsibility of fostering the kitten–now named Stormy–until she is ready to be adopted!
Thanks to all for their efforts in saving this kitten!
---
Volunteers needed for events
Public events are a good way to get our TNR message out there and let everyone know who we are and what we do! It is also an important part of advocating for our community cats. Unfortunately, without people to staff tables at these events, we cannot attend these events. If you have gone to our TNR class and enjoy meeting new people, please consider volunteering at an event.
---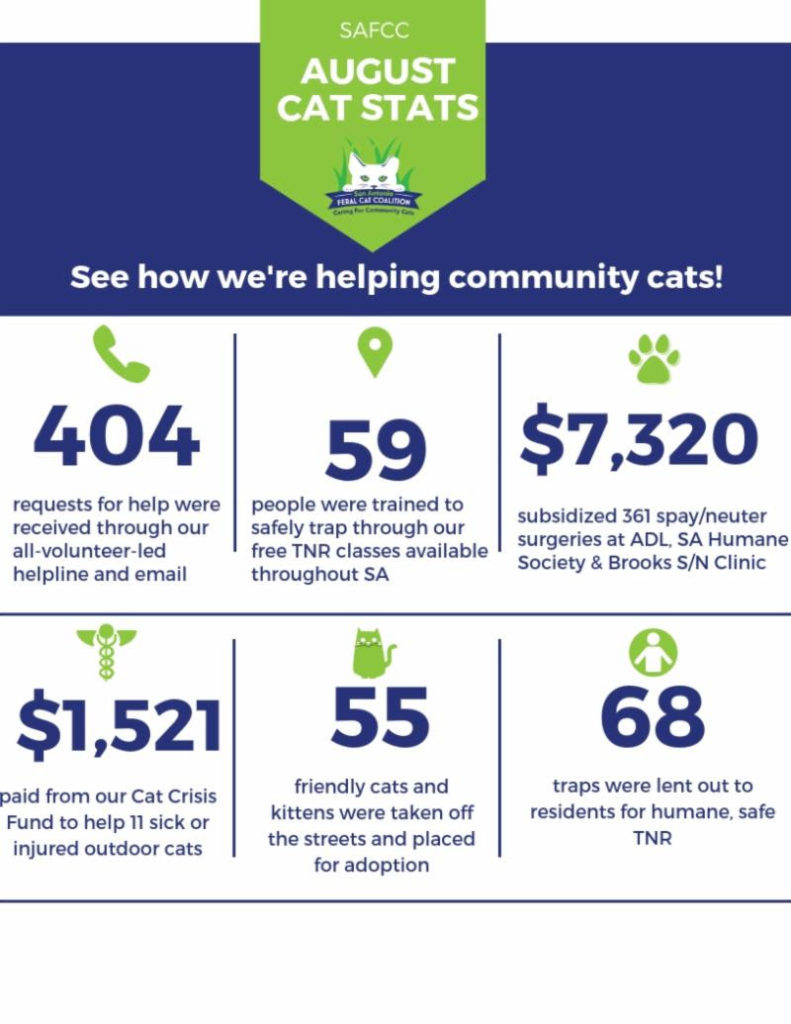 Help us continue to do this important work for our city, please DONATE!