Paws & Pints event at Freetail Brewing – Sept 24th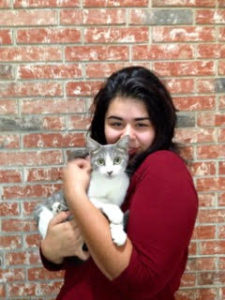 Teamwork with a happy ending!
This is Hades, who escaped from her carrier when going in for a spay.
She enjoyed roaming the beautiful Japanese Tea Gardens for 2 weeks
while people searched for her. Then one day while a volunteer was enjoying lunch outside, Hades walked up and asked for a bite. She then scarfed down 1 1/2 cans of cat food! She was boarded over night at the Alamo Hills Hilton, and one of our volunteers took her to be spayed the next morning at the Humane Society.
We even recovered Hades for 2 days while Anna worked as she could not be home to watch her. This morning they were reunited and both are so happy! Volunteers from the Brackenridge Park feeders (Clayton) and SAFCC (Chris) worked together so Hades could be quickly reunited with her owner. Her name may be Hades, but she certainly has a guardian angel looking out for her!
---
 Sponsor SAFCC in Rescue Magazine.

Rescue Magazine is a full-color weekly magazine that supports over 60 rescues and shelters. We are currently seeking a business sponsor for our ad in this weekly magazine. If you would like to promote your business to veterinarians, shelters, rescues and similar audiences for only $50 a month, please email us HERE to get more information on sponsorship.
Free SAFCC Trap-Neuter-Return Classes Held Each Month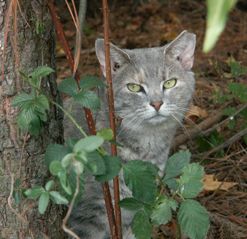 SAFCC runs free classes each month with the occasional "special" when requests are received. These classes are open to the public and are scheduled at various locations around San Antonio. After attending one free class (just one!) you will be able to borrow traps free of charge, gain access to subsidized surgeries, and even get volunteer help if necessary.
The information gained at the class is invaluable and expands your choices particularly if you do not happen to live in an area where grants for free or reduced cost surgeries are being provided at the moment. To see the complete list of classes and events visit our Calendar page. Please arrive 15 minutes early to sign in.