---
January Feral S/N Closures for trappers:
San Antonio Humane Society
Closed Jan. 13 & Jan. 27
Animal Defense League of Texas
Closed January 13 and January 17
---
Annual SAFCC Christmas fundraiser a success
Thank you to all that showed up to our Annual Christmas Fundraiser Bazaar. We had a great crowd and all enjoyed shopping, snacking and socializing. We love this opportunity to talk to all of those volunteers and supporters that make our work possible.
We raised $1,489 for our Community Cat Adoption Program. Rescue is a part of any TNR group and our CCAP team frequently pulls friendly strays and kittens off the street. Last year, our adoption program placed over 249 cats and kittens for adoption. We're sure these funds will help us increase that number next year.
---
November Cat Stats
Check out SAFCC's numbers from November. We've been busy! Help us continue to do this important work, please DONATE!
$3,060 – subsidized 150 spay/neuter surgeries at Animal Defense League & SA Humane Society
254 – requests for help received via our helpline and email
31 – people were trained to safely trap through our monthly free TNR classes
70 – cats and kittens were taken off the streets and placed for adoption
$900 – paid from our Cat Crisis Fund to help 7 sick or injured outdoor cats. Two of the 7 were humanely euthanized to relieve suffering.
---
Tails of Success!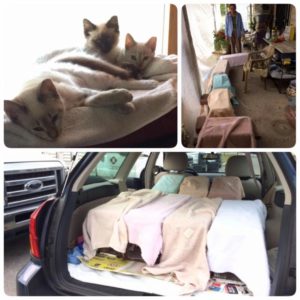 Martha, a SAFCC volunteer, has been helping and trapping throughout her Southcross and New Braunfels area for years, one family at a time. Martha identified a dumping area at a small trailer park with over a dozen 3-4 month-old kittens plus some adult cats and took on the task of a mass trapping.
Within two days, Martha got 12 cats. The weather turn cold and the remaining cats disappeared seeking shelter. In order to not mix up the recently fixed cats with those still needing to be trapped and fixed, Martha kept the first 12 feral cats in her home for a week so she could trap the others.
Overall Martha caught and recovered 23 cats from the trailer park-a clean sweep! Sandy, another SAFCC volunteer used our cat van to deliver traps and transport all the cats to and from the spay/neuter clinic. The three Siamese-looking kittens pictured here-were fostered and socialized within one week! They ended up at the San Antonio Humane Society for adoption.
The feral and stray cat population will never dwindle unless people like Martha step up and take responsibility for cats in their local area. Thanks to Martha, the number of kittens in this trailer park will be greatly reduced and all the cats have been fixed and vaccinated!
EMAIL us your success story with a picture so we can publish it HERE and in our newsletter!
---

Free SAFCC Trap-Neuter-Return Classes Held Each Month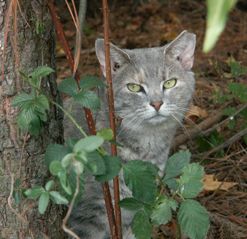 SAFCC runs free classes each month with the occasional "special" when requests are received. These classes are open to the public and are scheduled at various locations around San Antonio. After attending one free class (just one!) you will be able to borrow traps free of charge, gain access to subsidized surgeries, and even get volunteer help if necessary.
The information gained at the class is invaluable and expands your choices particularly if you do not happen to live in an area where grants for free or reduced cost surgeries are being provided at the moment. To see the complete list of classes and events visit our Calendar page. Please arrive 15 minutes early to sign in.