Adopt a cat from us! Grateful purrs await you!
PET OF THE MONTH
Gremlin
My name is Gremlin. I am very handsome Blue and White male with a pink and white nose. I am about a two-year-old. My mom had to leave suddenly town and could not take us with her so she had to give us up.
I am very friendly with people and other cats. I have always been an indoor. I was living with two other cats (not siblings) and several kids. I very laid back but still like play, explore new things, just a big yet lovable guy. I like to take lots of naps and do like lots of rubs. As you can tell eat all my food and treats. My coat is very thick and but short.
If you would like to meet me call/text Lorraine at 210-471-8462.
Email: crazykattlady67@gmail.com
---
Come by and see us at:
Petco-Terrell Plaza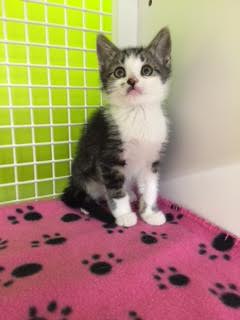 1211 Austin Highway #101
San Antonio, Texas 78209
23014 US-281 #107
San Antonio, TX 78258
12651 Vance Jackson Rd. #119
San Antonio, TX 78230
125 NW Loop 410 #350
San Antonio, TX 78216
An adoption representative from the San Antonio Feral Cat Coalition is on site at the Petco-Fiesta Trails (DeZevala Rd.) and Petco-La Plaza del Norte (410/San Pedro) stores the second and fourth Saturdays of the month, 12 noon to 4 PM. Check our Facebook page for possible updates and additional adoption events.
During the week, Petco staff at each of the stores will be able to refer you to an Adoption Counselor to assist you.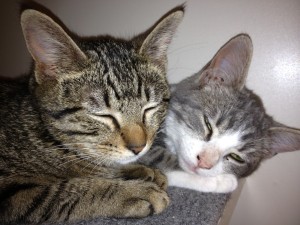 To ensure the health and welfare of these adorable cats, all of our adoptable cats and kittens have been spayed/neutered, combo tested, received a rabies shot/ vaccinations/ dewormer/ flea treatment and are microchipped.
In addition, with every cat adopted, you receive exclusive Petco coupons that will assist you in getting all the essentials for your new pet.
For our adoption application please click on this link: Adoption Application (Revised February 2016)
Please try an alternate method of communication (phone, text, email), or another person named, if you do not receive a response. We don't want to miss your inquiry!
You may–email the completed application to the Contact named in the post.
You may also print, scan OR take phone pics and email to the Contact.
Only email to the Contact named in the bio for the kitty; if not, we may not receive it!
---
Check Out Our Online Adoptable Cats
Below is a list of cats that we have rescued and currently have available for adoption.
Please note: We do not ship our cats, provide any transportation, or do out of state adoptions.
PET OF THE MONTH